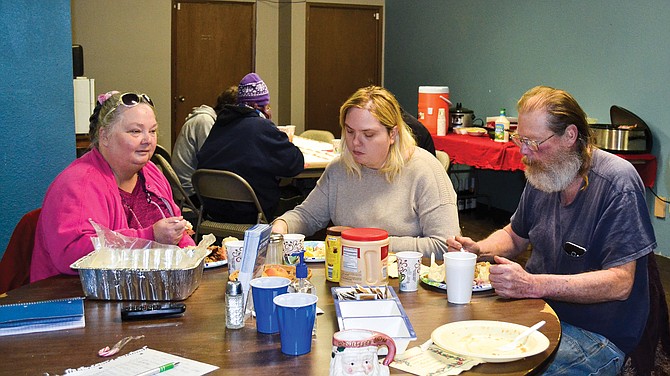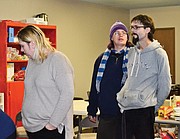 SUNNYSIDE — Elizabeth Knowles prepared and served Christmas dinner to Sunnyside's homeless citizens at noon Friday, and more than a dozen people dined.
They weren't exactly festive, but they were happy with the meal and grateful for Knowles, who volunteers her services.
The annual dinner took place at Underground at the Oasis Community Church.
It was a traditional Christmas meal with ham, mashed potatoes and gravy.
But this may have been the last of these meals. Elizabeth's husband Joseph said Oasis is set to close March 1.
The guests included Steven Meador, 31. He shared his homeless experience.
Meador came to Sunnyside as a third-grader and grew up here. He was married, then divorced, and he lost a custody battle with his ex-wife.
The ex-wife and his 9-year-old daughter live in Vancouver, and he is not allowed to visit.
Meador said he fell into a deep depression and started drinking and doing drugs. He lost his job and everything else. He made a lot overnight visits to friends' homes.
He got a job earlier this year, but his health went bad, including seizures. He was disabled by the state.
Meador recently found housing in Yakima. He came to the dinner to help Knowles, who is his mother.
Lela Dills, a young 30-ish woman was raised in Sunnyside until she was 16. Her case was similar to Meador's.
She was living in Indiana when she and her husband separated. She had no place to go and ended up homeless.
Glory Donan was raised in Sunnyside from the age of 8. She said her husband used his earnings from work on drugs and didn't pay the bills.
"Any money I could scrounge up was not enough to pay the bills," she said. "We lost the house."
Glory has two children who are homeless with her. She works 15 hours a week at Entrust Community Services, across the street from Oasis as a peer counselor.
Karen Pitts is another peer counselor. She and Donan connect other homeless and needy with community services.
"We are advocates for the homeless," Donan said.
Pitts said that at 18 she was living along the Yakima River in a shelter she made from scrap wood, cardboard and plastic.
Donan looked for abandoned buildings. Sometimes family took her in.
"I've done a lot of couch surfing," she said.
All four said they have hope for the future. They are not homeless because they want to be.