OLD-TIMER'S VIEW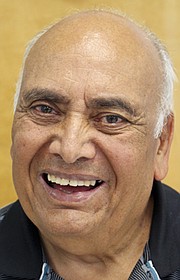 Most Hallmark movies of the season use the phrase "Christmas magic," or some variation.
My nephew Rudy Gonzalez started things off. He has musical talent, and he's been trying to break into the heavy metal scene. A couple of weeks ago, somebody who had noticed Rudy's work with a mixing board, invited him to a distant studio. The studio is owned by a person connected to Willie Nelson, Ted Nugent and a few others.
Rudy took up the invitation.
Rudy engineered the sound for a group. When he came out of the sound room, he encountered about 20 country musicians. They complimented him profusely.
Rudy was invited to jam. He didn't do country, he said.
They convinced him he could, and he took out his heavy metal guitar and did something to it to make it sound like a steel guitar.
"I was nervous," he wrote.
The other musicians raved about his sound and his ability to play. Before he left the studio, he was offered the job of engineer at the studio and an opportunity to tour with one of the groups.
Rudy wrote that if it took country music to get a foot in the door to his dreams, then he was going do it that way.
I couldn't think of an appropriate response of my own. So I wrote: "This is the magical time of year."
Most of the magic occurred on Christmas Eve and Christmas.
First, the Seattle Seahawks won at Dallas while Pat and I listened on the radio driving to Walla Walla. I was amazed at how these old hands rose from the ashes of the Los Angeles defeat.
We got to Assumption Church in time for Christmas Eve Mass. Our daughter Jenny, who teaches music at Assumption Middle School, led the singing.
Then it was on to our first Mike and Terri Neal family Christmas. It will be listed among my memorables.
We had a light meal and then a show I didn't expect. First it was the smallest Neals, including my grandsons Jude, Blaise and Max and granddaughter Cecilia.
They did a musical skit authored by their 15-year-old Aunt Ana.
Four of Mike's an Terri's sons, including my son-in-law Andrew, did guitar-vocal solos. The one that got Pat an me going was the Hawaiian Merry Christmas. David Neal, 16 and self-taught, played the ukulele.
Then came the big surprise. Jenny and our other Walla Walla daughter, Berney, who used to perform as a duet in their teens and early 20s, got up to sing. I hadn't heard them in a long while.
"This one's for you dad," Jenny said.
Without any preparation, they sang "Sisters" from White Christmas. It wasn't perfect, as they laughed their way through, but it was perfect for me.
Then our Catholic source, Berney, informed us we needed to go to mass Christmas morning. There were two days of obligation and Christmas Eve wouldn't cover both, she said.
Berney went with us to mass, and then she did one of the most Christian things I've ever seen. She invited a homeless man, whom she didn't know, to Christmas dinner.
It reminded me of the passage in the Bible in which Jesus says, more or less, there isn't much to be gained by inviting friends and family to the party. Invite someone you don't know, and the world will change.
Especially in this magical Christmas time of the year.
— Ted Escobar is the managing editor of The Daily Sun. Email him at tescobar@dailysunnews.com.