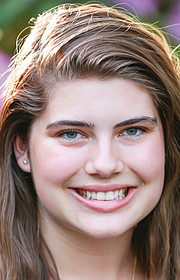 SUNNYSIDE — The year 2017 has been exciting for local pianist Julia Kilian, 16, daughter of Carl and Jeannie Kilian of Sunnyside.
Earlier in the year, Kilian was invited as one of the top 12 pianists, out of the 143 pianists who were participating in the Washington State Music Teachers Association Yakima/Ellensburg Chapter Adjudications, to compete in the state playoff competition.
Kilian performed, from memory, a piece by Schumann/Liszt and was selected Alternate Representative by judge Dr. Judith Schoepflin, NCTM, of Whitworth University.
In April, Kilian auditioned for a scholarship offered by Bel Canto of Yakima, a women's choral group, to be used toward music education. The talents of those auditioning included piano and voice. Out of the eight competing musicians, Kilian was selected. She was awarded a $250 scholarship.
Bel Canto raised the funds through its annual Christmas and spring concerts.
Also in April, Kilian auditioned for the WSMTA Yakima/Ellensburg Chapter Scholarship. Of the six pianists competing, Kilian was selected as first-place and was awarded a $600 scholarship.
Kilian combined the scholarships and is currently receiving private vocal instruction.
She is a junior enrolled in a home education program through Christian Liberty Academy in Illinois. Kilian receives piano instruction from Jackie Kilian of West Valley and is in her eighth year of study
Kilian will be featured in the Bel Canto's 2018 spring concert.