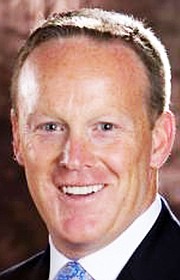 WASHINGTON, D.C. — The Trump administration is appealing a Seattle judge's ruling against the president's restrictions on those entering the U.S. from some Muslim countries.
"It is time to get serious about protecting our country," Press Secretary Sean Spicer said. "Calling for tougher vetting for individuals traveling from seven dangerous places is not extreme. It is reasonable and necessary to protect our country."
Acting U.S. Attorney General Dana Boente on Saturday filed an appeal of U.S. District Court Judge James L. Robart's temporary restraining order.
The order was issued Friday in Seattle, preventing enforcement of key parts of Trump's executive order.
Imposed on Jan. 27, the President's order bars those with visas from entering the United States from Iraq, Iran, Sudan, Libya, Somalia, Syria and Yemen.
In a statement Saturday, the Department of Homeland Security announced it has suspended parts of the Executive Order that apply to Friday's ruling, which means travelers who hold passports from the seven previously barred countries may enter the United States.
The 9th U.S. Circuit Court of Appeals denied the Trump administration's appeal later Saturday night, which means the travel ban remains on hold.
Robart's order was in response to a lawsuit brought by state Attorney General Bob Ferguson, who argued Trump's order was illegal and unconstitutional.

The state argued the executive order violates the U.S. Constitution's guarantee of Equal Protection and the First Amendment's Establishment Clause.
Justice Department trial attorney Michelle Bennett responded that Trump has a right to suspend certain aliens if he feels they are detrimental to the country.
The court found the state had shown the Trump administration was unlikely to succeed in defending the order's lawfulness.
In issuing the court order, Robart, a President George W. Bush appointee, also said "irreparable harm" was likely to occur without the restraining order.

Both sides, Washington state and the Trump Administration, were asked to submit legal briefs to the court by today.
Arsalan Bukhari is executive director of the Washington State chapter of the Council on American-Islamic Relations. He was encouraged by the ruling.
"It reminds American-Muslims, like all Americans, that the Constitution is the law of the land," he said. "No one is above the law, not even the President."
— Editor's note: Washington Newspaper Publishers Association reporter Grace Swanson contributed to this story.