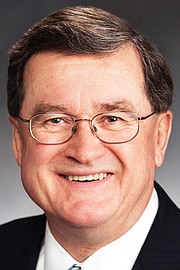 OLYMPIA — Your driver's license might not fly with airport security in less than a year's time if the state fails to meet federal identification and travel laws.
Enacted by Congress in 2005, the REAL ID Act established minimum-security standards for Homeland Security to apply when examining state-issued driver's licenses and identification cards to prevent their use by terrorists.
The law requires travelers to provide proof of legal residency with documents such as a passport or enhanced driver's license.
Non-compliant states without deadline extensions have until Jan. 22, 2018, to meet national standards.
Washington, which was granted its final extension in 2015, is one of two-dozen states yet to comply with the REAL ID Act.
House Bill 1041, sponsored by Rep. Judy Clibborn, D-Mercer Island, and Senate Bill 5008, sponsored by Sen. Curtis King, R-Yakima, would satisfy the 41 requirements included in the federal REAL ID Act.
The bills are based on a measure developed by the Department of Licensing in cooperation with Gov. Jay Inslee.
Conforming to the act will still cost travelers. It costs $54 to renew a basic driver's license for six years, and $108 for an enhanced driver's license. King's proposal would lower the enhanced license cost to $90 for the next four years.
"It's ridiculous that we're here in 2017, when the REAL ID Act passed in 2005," King said. "We need to get this done this year."
Department of Licensing Policy and Legislative Director Tony Sermonti said the agency intends to keep enhanced driver's licenses affordable.
"This bill does not remove the ability for people to obtain an enhanced driver's license," he said. "We want to help avoid real disruptions for the traveling public."
While the state would continue to issue basic driver's licenses, the federal government no longer would recognize it for federal purposes, such as boarding a plane or entering military bases.
A lack of clarity from the federal government on enforcement, deadlines and cost were among the factors complicating the state's compliance.
The Hanford Nuclear Reservation and Camp Murray army base accept basic drivers licenses. Joint Base Lewis-McChord and Naval Air Station Whidbey Island do not.
Immigration advocacy groups are concerned compliance with the REAL ID Act could draw disproportionate attention to undocumented immigrants, who are more likely to have basic driver's licenses and be identified as non-residents.
Senate Bill 5008 awaits Senate floor consideration, having been placed on second reading by the Rules Committee. It passed the Senate Committee on Transportation on Jan. 24 with a 12-2 bipartisan vote.