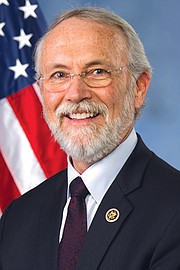 WASHINGTON, D.C. — Congressman Dan Newhouse is backing an effort to expedite projects for water storage.
Newhouse, R-Sunnyside, introduced House Resolution 875 yesterday.
Called the Bureau of Reclamation Water Project Streamlining Act of 2017, it aims to speed up the federal Bureau of Reclamation's environmental planning and study process for new water projects such as dams and reservoirs.
"Streamlining water storage and infrastructure projects will help communities in the arid West plan for the future," Newhouse said.
It would apply the same streamlined water project development process used by the U.S. Army Corps of Engineers under the Water Resources Reform Development Act of 2014.
The proposal broadens legislation to include additional projects for surface water storage, water infrastructure and water recycling.
"The growth of our communities and our ability to confront frequent drought depend on access to new water resources, so the framework for developing these projects should not be bogged down by delayed permits and endless reviews," Newhouse said.
It would require future Reclamation feasibility studies to be completed with three years after the date of initiation and have a maximum federal cost of $3 million.
Local irrigation districts have worked with the federal agency in the past on water projects.
During the drought of 2015, for example, Reclamation officials met with the Roza Irrigation District's Board of Directors on a proposed emergency floating pump plant on Lake Kachess.
After several discussions, Roza's board eventually decided not to pursue that project due to cost concerns.