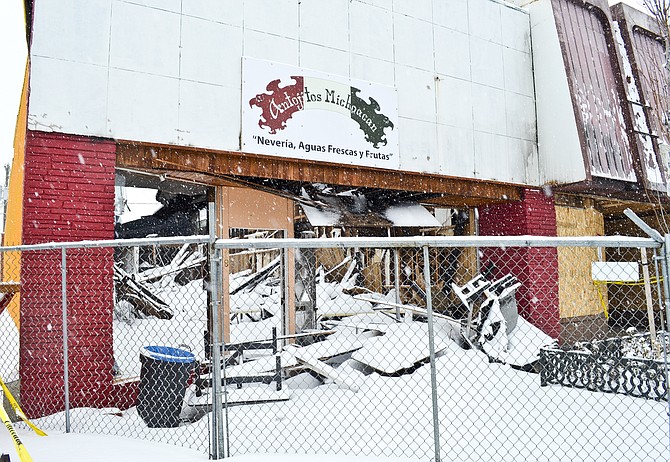 SUNNYSIDE — A local man is accused of repeatedly burglarizing a burned-out downtown business.
Luis Pineda-Beltran was arraigned yesterday in Yakima County Superior Court on charges of second-degree burglary and second-degree malicious mischief, damage exceeding $750, court records show.
He was arrested 4:45 a.m. Monday at his home, 800 W. Woodin Road, a probable cause document shows, after repeatedly burglarizing Antojitos Michoacan, 418 S. Sixth St.
The shop, noted for its fruit cups, has been boarded up since a fire in November.
Police Commander Scott Bailey said Pineda-Beltran made repeated trips into the building.
"Items taken were food and candy," he said. A dollar figure for the loss was not available as of press time.
Officer Mike Ausland followed Pineda-Beltran's footprints in the snow after contacting him and Angel Sanchez in the area of South 11th Street and East Edison Avenue, records show.
"Both are known thieves, so I decided to back track the footprints in the fresh snow," Ausland said in a narrative for the court.
Sanchez told Ausland that Pineda-Beltran goes into the destroyed building and takes items from it, records show.
Ausland followed one set of tracks, Pineda-Beltran's, to the shop, where a board had been removed, records show.
"While following I located several items that came from the burned building," he said. "I continued to follow Luis' footprints all the way to his parents' house."
Pineda-Beltran's shoes matched the prints in the snow, records show.
Bailey said police aren't done with the case.
"It looks like there may be some additional follow-up investigation or some supplemental reports pending," he said.
Pineda-Beltran's criminal record includes residential burglary, records show. He was out because of Yakima County's pre-trial release program.
Fire Department Battalion Chief Bill Harris said Pineda-Beltran's are not only illegal, but also dangerous.
"It's incredibly unsafe to be in there," he said. "That's the reason we're not in there investigating it."
He said there is a demolition permit for the building, which also includes a party store next door that, too, was destroyed.
"They were supposed to be here last week, but they must be waiting for the snow to break a little bit," Harris said. The fire's cause is still unknown, Harris said, as fire officials are waiting for demolition before further investigation.
The fire started Nov. 19 in the back of Elena's Party Supply, 420 S. Sixth St., and spread to Antojitos Michoacan, gutting both stores.
While the two shops were destroyed, a neighboring shop sustained some water damage and others were unharmed.
Fire Chief Aaron Markham credited a fire wall in the party supply building for keeping the flames from spreading further.
He estimated the loss at $115,000.
Sunnyside firefighters were joined by crews from Toppenish, Grandview, Yakima County Fire District No. 5 and Prosser in battling the flames.
The fire's cause is still unknown, Harris said, as fire officials are waiting for demolition.
"Arson is not suspected at the moment, but it's still a possibility," he said.