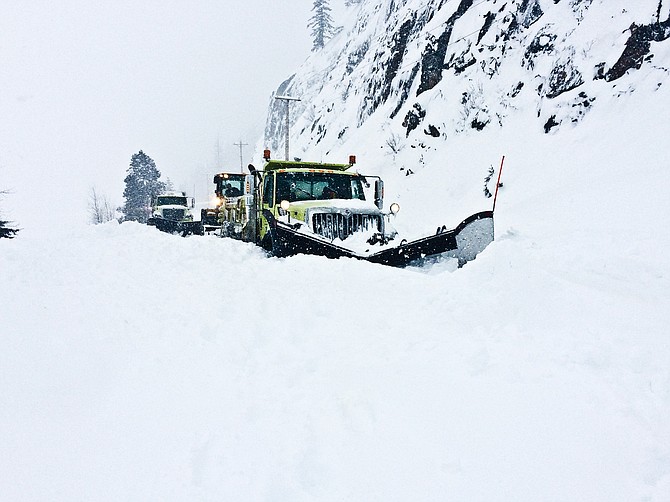 SUNNYSIDE — Schools, colleges, cities and even an entire county shut down yesterday due to a storm expected to bring up to five inches of snow in some areas.
The local School District shut down activities last night due to safety concerns.
And St. Joseph's Catholic Church canceled activities last night.
Prosser City Hall sent staff home early due to the snow and forecast for more winter precipitation.
Any payments, applications or assessments that were due to the city yesterday received a one-day extension.
Klickitat County closed its offices yesterday afternoon and officials there said they may close again today, depending on the weather.
Elsewhere, Paterson sent students home early and Perry Technical Institute in Yakima shut its doors.
Classes in Toppenish, Grandview, Zillah, Mabton, Sunnyside and Prosser began two hours late today as of press time.
The storm kept state Department of Transportation crews busy. At one time yesterday, sections of White Pass, state Highway 241 and state Highway 410 were closed.
Likely the worst conditions were on White Pass, where large snow slides closed U.S. Highway 12.
"The slides were so large that one even partially buried one of our snow plows," the agency said on social media. "Fortunately the driver was uninjured and no damage to the plow."
The State Patrol reported more than 60 crashes in Eastern Washington yesterday.
Other crashes included a school bus that left the roadway while traveling on Konnowac Pass, near Wapato. There was not a report as of press time regarding possible injuries.
Weather officials are saying all that snow should give way to rain today, with temperatures expected to be well into the 40s.
"It's going to get messy," AgWeatherNet meteorologist Nic Loyd said. "Though conditions will vary by location, everyone is going to see plenty of precipitation."
He said snow should shift to heavy rain today through Friday morning.

"This big system will be piping a river of moisture into the region, making driving hazardous at times and also bringing localized flooding," Loyd said.
Today's high temperature is expected to be 46 degrees and the overnight low 32.
The Lower Yakima Valley is expected to clear out the current storm system sometime later on Friday, when sunny skies and a high of 44 degrees are in the forecast.