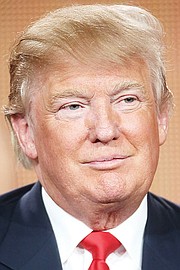 SAN FRANCISCO, Calif. — A presidential executive order was struck down in court for the second time in a week.
The federal Court of Appeals for the 9th Circuit upheld a stay of President Donald Trump's executive order restricting people from seven Muslim countries.
"See you in court, the security of our nation is at stake!" Trump tweeted moments after the decision was reached yesterday afternoon.
The verdict supports Judge James L. Robart's ruling last Friday against Trump's executive order. The administration responded with an appeal.
"On the one hand, the public has a powerful interest in national security and in the ability of an elected president to enact policies," justices said in yesterday's decision. "And on the other, the public also has an interest in free flow of travel, in avoiding separation of families and in freedom from discrimination."
Robart's ruling was in response to a lawsuit brought by state Attorney General Bob Ferguson, who argued Trump's order was illegal and unconstitutional.

The state contended the executive order violates the U.S. Constitution's guarantee of Equal Protection and the First Amendment's Establishment Clause.
The Justice Department countered Trump has a right to suspend certain aliens if he feels they are detrimental.
Gov. Jay Inslee praised yesterday's ruling, "The decision underscores the serious constitutional issues with President Trump's executive order and emphasizes what Attorney General Ferguson has said throughout this case: that no one is above the law, not even the president."
Trump called it a "political decision."
During comments immediately after the ruling, he said the decision puts the nation at risk.
''We have a situation where the security of our country is at stake and it's a very, very serious situation," he said.
Trump indicated he wants to pursue further appeals.
''We're going to win the case,' he said.'