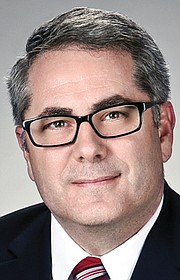 YAKIMA — A Bickleton native starts his new job today as a Yakima County Superior Court judge.
Kevin S. Naught, 46, was appointed to the post yesterday by Gov. Jay Inslee.
"Kevin's impressive public service background, his years serving as a Yakima County Superior Court Commissioner, and his obvious passion for serving his community make him the perfect choice to serve Yakima County," Inslee said. "I am confident he'll make an excellent judge."
Naught had been a Yakima County Superior Court commissioner since 2014 and said the judgeship is a dream come true.
"Right now it hasn't sunk in," he said. "It really is just a humbling experience… a little bit hard to believe. It's a dream and goal I've had and to get there, it's a mixture of emotions."
As court commissioner, Naught handled family law litigation until it went to trial and forwarded on to judges.
Now he'll be on the receiving end of those and all cases appearing before the court.
"The transition will be seamless. It will be a top priority as there are a high number of cases," he said of the court finding his replacement. "I'm looking forward to seeing cases through to the end. And I will be able to hear all types of cases, which will be challenging and fun."
Robyn Berndt, the county's court services director, said Inslee made the right call.
"The governor made an excellent appointment when he appointed Kevin Naught," she said. "We have thoroughly enjoyed working with him since he became a court commissioner. He has a long record in our community of having a well-rounded knowledge of the law and he applies it with the highest degree of integrity and professionalism."
Court Administrator Harold Delia agreed.
"He has been a great court commissioner for the Yakima County Superior Court and the judges are very happy with his appointment," Delia said of Naught.
Naught replaces Susan Hahn, who retires after being on the court since 1991.
The 1989 Bickleton High School graduate is the son of Stephen and Judy Naught, who still call Bickleton home, along with his sister and brother-in-law, Kim and David Clinton.
"I think they're enjoying this just as much as I am," Naught said. "They're very excited for me."
The Naught farm was near the Yakima and Klickitat county line, and he fondly recalled childhood visits to Sunnyside. "It was a second home," he said.
His interest in the court started at an early age.
"Growing up, my dad and I liked to go to the different courthouses," Naught said. "In college I thought about I wanted to do and told my parents I wanted to go to law school. They encouraged me."
Naught earned his Bachelor's degree from Washington State University, and his law degree from Gonzaga University's School of Law.
His experience includes serving as the Judge Advocate General Chief of Legal Services and Attorney for Ray Barracks, Germany, as well as the JAG Operational Law Attorney for Eagle Base, Bosnia-Herzegovina.
Naught has been an active volunteer in Yakima, coaching both soccer and basketball for the YMCA and the Yakima Youth Soccer Association.