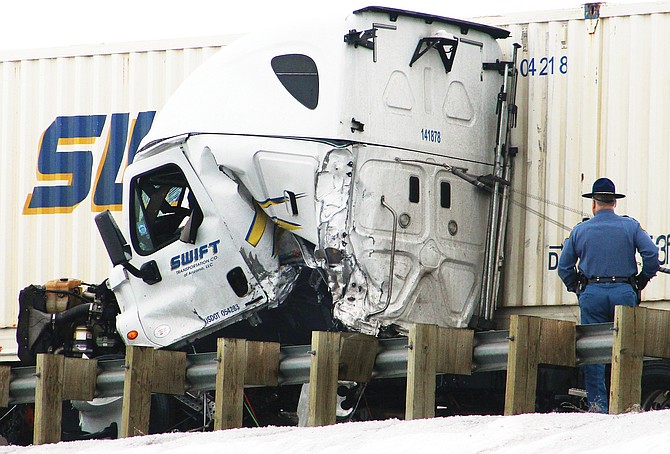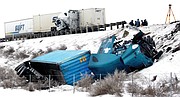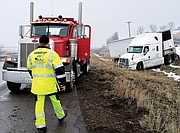 OUTLOOK — Interstate 82 re-opened at 2 p.m. yesterday after icy roads and multiple crashes led to closures between Sunnyside at Milepost 67 and Milepost 54, near Zillah.
There were 22 crashes between the two mileposts, Kiley Conaway of the Washington State Patrol said.
"There was a combination of things happening," state Department of Transportation spokeswoman Summer Derrey said. "We had the ice storm that hit and as a result of that we had a lot of spin-outs."
Interstate 82 was closed in both directions between Sunnyside and Zillah at 7 a.m. yesterday, Derrey said. The eastbound lanes re-opened at 9:30 a.m. and westbound at 2 p.m.
The worst crash was at 6:43 a.m., when five people were injured in a four-vehicle pile-up westbound near Milepost 62, the Washington State Patrol said.
Jose A. Rodriguez, 45, of Las Vegas, Nev. was charged with speeding too fast for conditions when his 2014 Freightliner truck trailer rear-ended a 2006 Kia Spectra driven by Miguel Cortes, 68, of Sunnyside, the patrol said.
Cortes and Rodriguez were both injured and taken to Sunnyside Community Hospital, the patrol said. Rodriguez's passenger, 46-year-old Zulemo O. Rodriguez of Ventura, Calif. was also injured and taken to the Sunnyside hospital, the patrol said.
Two other Freightliner drivers were injured and hospitalized in the same crash, the patrol said.
Erik V. Guzman, 27, of Pasco was driving a 2009 Freightliner that left the roadway and rolled after crashing onto Jose Rodriguez's Freightliner.
Michael W. Jenkins, 52, of Tuscon, Ariz was driving a 2016 Freightliner that also crashed into Rodriguez's vehicle, troopers said.
All involved in the crash were wearing seat belts, the patrol said.
Alcohol nor drugs are believed to be factors, troopers said.
The icy roadways resulted from freezing rain that started before 4 a.m. yesterday.
Sunnyside, Grandview, Prosser and Paterson schools canceled classes.
Mabton schools opened on a two-hour delay and Prosser City Hall employees reported to work three hours late due to poor road conditions.
St. Joseph's Catholic Church canceled activities last night.
With another freezing rain advisory in the forecast last night, Derrey said state crews were ready for the possibility of icy roads this morning.
"We're keeping a very close eye on this," she said last night. "We'd like to pre-treat the roadways in advance with deicer, but the rain we had would have washed it away."