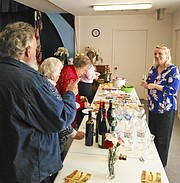 SUNNYSIDE — There are many ways to enjoy this weekend's annual Red Wine and Chocolate event at most Yakima Valley wineries.
It all begins tomorrow and continues through Sunday.
In Sunnyside, the Côte Bonneville Winery tasting room, 1413 E. Edison Ave., will be open at 10 a.m. offering samples of wine and chocolates, winemaker Kerry Shiels said.
"We'll be open through Monday, from 10 a.m. to 5 p.m.," she said. "Drop by for a taste of our Train Station label wines."
Proceeding through the valley, wine aficionados will have an opportunity to taste wines made by student winemakers at the region's only teaching winery.
Yakima Valley Vintners, 110 Grandridge Road, Grandview, is also participating in the Red Wine and Chocolate Event. The tasting room will be open from 2-5 p.m. Friday. Weekend hours will be from 11 a.m. to 5 p.m., Winery Manager Brad Smith said.
A complimentary tour of the teaching winery with student winemakers is also offered to sample award winning wines paired with delectable milk and dark chocolate confections provided by the college's in-house chef.
Premier Pass holders will receive an exclusive sample of the Vintner's Reserve "Dean's List Red Blend."
Tasting fees will be waived for Premier Pass holders at most of the wineries throughout the Yakima Valley, from Benton City to west Zillah.
The pass is the only way to experience the depth of the Yakima Valley during Red Wine and Chocolate weekend, organizers said.. Pass holders will receive access to exclusive pairings, library tastings, and tours not available to the public.
The pairings continue as the wines featured are available to take home for deep discounts for Premier Pass holders.
For more information and to receive a pass visit: wineyakimavalley.org.