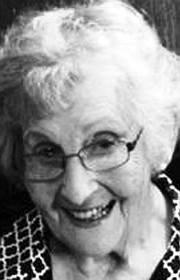 Janice Mae Rollinger, 88, of Sunnyside, passed away, Friday, Feb. 17, 2017, in Sunnyside.
She was born in Wabasha, Minn. May 13, 1928, to Henry Anthony Stamschror and Christine Louise Stamschror.
She was one of six children, a loving wife, mother of 11 children and beloved grandmother to 34 grandchildren and 34 great-grandchildren.
Janice traveled to Sunnyside as a young adult with her brother, Henry Stamschror, and his close friend, Clarence Rollinger, in 1950. There she found employment at the Carnation Company.

She attended young adult dances at church where Clarence "looked out for her," and after four months they became engaged.

She married Clarence Joseph Rollinger on May 26, 1951, and together they created a lifetime of love, faith and commitment. They raised their family together - in the early years as row crop farmers and in 1965 transitioned to dairy farming.
In 2016, they celebrated their wedding anniversary by renewing their wedding vows and celebrating mass at St. Joseph's Catholic Church, just as they had done 65 years prior.
Janice cherished family gatherings and reminded her kids to "love and care for one another."
Early in her married life she worked with young people through the Catholic Youth Organization and St. Joseph's Catholic School.
She always provided a welcoming home and loved socializing with close friends, especially enjoying Pinochle and Scrabble.
Many hours were spent supporting and watching her children and grandchildren play basketball, volleyball and baseball.
Gardening and preserving food was a passion and visitors often left with homemade cakes, pies, cookies and canned fruits.
She welcomed everyone that she met with a gracious smile and has left a tremendous legacy of faith and love with her children and grandchildren.
Janice was a devoted member of St. Joseph's Catholic Church, attending Mass daily and bringing Holy communion to those unable to attend Mass.

Janice is survived by her husband, Clarence Rollinger, of Sunnyside; 11 children, Anne (Dave) Burkett of Selah, Charles (Sharon) Rollinger of Sunnyside, Marian (Keith) Phillips of Prosser, Mike (Susan) Rollinger of Yakima, Kathy (Rick) Sartain of Grandview, Janice (Bruce) Juntunen of Chehalis, Patti (David) Brumbach of Renton, Joe (Lori) Rollinger of Sunnyside, Julie Spini of Sunnyside, Dan (Janet) Rollinger of Boise, Idaho and David (Erica) Rollinger of Zillah; grandchildren; great-grandchildren; and beloved nieces and nephews.
Janice was preceded in death by her parents, Henry and Louise; sisters, Mary Louise Barton, Margaret Ann Aust and Bette Harlan; and brothers, Dan and Henry Stamschror.

Viewing and visitation will be from 3-8 p.m., Wednesday, Feb. 22, with recitation of the Holy Rosary at 6 p.m. at Smith Funeral Home, Sunnyside.
Mass of Christian burial will be at 10 a.m., Thursday, Feb. 23, at St. Joseph's Catholic Church in Sunnyside.
Burial will follow at Lower Valley Memorial Gardens, in Sunnyside.
In lieu of flowers, memorials may be sent to St. Joseph's Catholic Church, Sunnyside.
Those wishing to sign Janice's online memorial book may do so at www.funeralhomesmith.com.
Smith Funeral Home is in care of arrangements.
More like this story