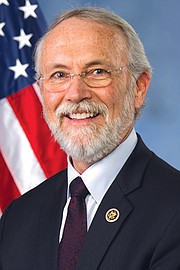 SUNNYSIDE — Congressman Dan Newhouse, R-Sunnyside, is meeting with constituents, even as his critics claim he is avoiding them.
It's just that those meetings aren't necessarily large "town hall" sessions, spokesman Will Boyington said.
"Congressman Newhouse is meeting with groups of constituents who requested appointments — sometimes months in advance — to speak about immigration and healthcare among other issues," Boyington said.
About 100 people protested Wednesday in front of Newhouse's Yakima office.
And another group is planning a "town hall" meeting tomorrow in his absence. That meeting is scheduled for 2-3:30 p.m. in the East Auditorium (TEST 266) on the WSU Tri-Cities campus, 2710 Crimson Way, Richland.
Newhouse's office was made aware of the "activists' event" just two days ago, Boyington said. Many of the protests are opposing President Donald Trump's policies.
Newhouse is also planning "... upcoming telephone town halls to hear from as many constituents as possible," he said.
The Congressman has responded to more than 43,500 letters, calls and emails and made more than 500,000 outreach calls to constituents during his time in office, Boyington said.