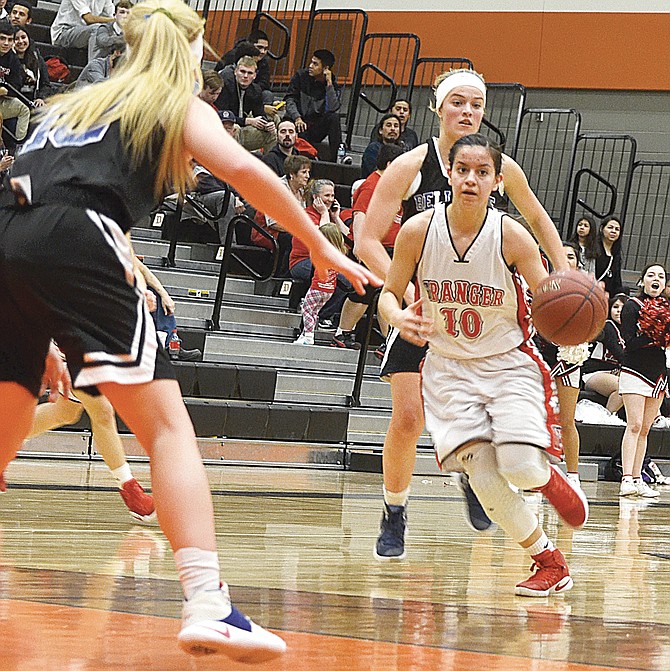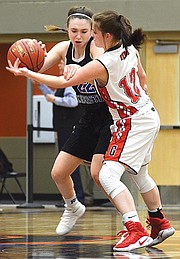 YAKIMA — The Granger Spartans girls basketball team is in the state quarter-final game, having defeated Bellevue Christian, 62-41, on Friday at Davis High School.
Granger will play the winner of Wednesday's loser-out game between Meridian and Montesano at 12:15 p.m. Thursday in the quarter-finals at the Yakima Valley SunDome.
Against the Vikings, Alexis Castro said she felt good about being in the groove, having knocked down six treys and accumulating 24 points. She was 100 percent from the charity stripe.
Teammate Jayleen Vasquez said her focus was limiting Bellevue Christian's best player — Rachel Berg.
"I knew if I shut her down, we would go out with a win," Vasquez said.
Mission accomplished.
Berg scored just 12 points, leaving teammate Molly VandenBrink to fill in the gaps with 11 points.
VandenBrink hit 5-of-12 free throws and Berg dropped in 4-of-5.
"Jay and Keely did an amazing job," Granger coach Andy Affholter said. "They made her (Berg) work for her 12 points."
When Castro felt the pressure of the Vikings' defenders, she said, "Someone else would fill in… like Sophie (Blodgett)."
Blodgett dropped in three 3-point shots and scored 13 points.
Not to be left out of the mix, Emma Stewart tallied 10 points from inside the paint. Vasquez scored 8 points, Lily Stewart and Laynie Brien each tallied 2, and Naya Roettger contributed 3.
Keely Teel contributed to the win, pressing the Vikings at nearly every turn. She had 4 steals.
"I am proud of the consistency," Affholter said. "Everybody has a specialty. We try to find a skillset and have the players do what they do well every time."
Bellevue Christian was quicker on the boards, but Emma Stewart led the Spartans with six rebounds. Vasquez had two and Roettger collected one. Kaitlyn Roettger also grabbed a rebound.
"It feels good to be in the state semi-final," Castro said. "We just have to keep doing what we do."
Granger outpaced the Vikings, 20-13, in the first stanza and 16-8 in the second for a 36-21 halftime score.
The Spartans slowed the scoring in the third and Bellevue Christian outpaced them, 12-7. The Vikings were unable to keep the momentum in their favor, and Granger tallied 19 points to their 8.
"We knew how good they were gonna be," Bellevue Christian coach Blake DeJonge said after the game.
"When Granger shoots as well as they did, we know it's gonna be a long road," he said.
Affholter was proud of his team, having accomplished the goal of making it into the Top 8 at state. "It's the ninth year in a row," he said. "We're one game away from a trophy."
The Spartans "… love to compete," Affholter said. "We had the attitude that this was our night; we were going to take what belonged to us."
Prosser
The Mustangs are also playing at the SunDome this week.
At 10:30 a.m. Wednesday, they tip off against Wapato in a loser-out game. The teams are vying for Thursday's 10:30 a.m. quarter-final game against Olympic.
Prosser defeated Franklin Pierce, 56-49, on Friday at Chiawana High School in Pasco.
The Cardinals had a 15-12 first-quarter lead, and each team dished 12 points in the second, giving Franklin Pierce a 3-point advantage at halftime.
The Mustangs narrowed the lead to 1-point, outperforming the Cardinals, 16-14, in the third stanza.
In the final quarter, Prosser surged 16-8 to clinch the win and a berth to the Hardwood Classic.
The Mustangs were 24.6 percent with their shooting, 51.6 percent (16-for-31) from the charity stripe.
The Cardinals were more consistent, hitting 41.5 percent of their baskets, 61.9 percent of their free throws.
Meting out the majority of the points — 21 — for Prosser was Marissa Cortes. She was 7-for-10 from the free throw line and hit four treys. She also had 4 assists and 5 steals.
Teammate Brooke Wheeler had a double-double with 16 points and 16 boards. Another rebounding leader was Ali Cox with 15.
Alexis Foster scored a game high 32 points for the Cardinals.