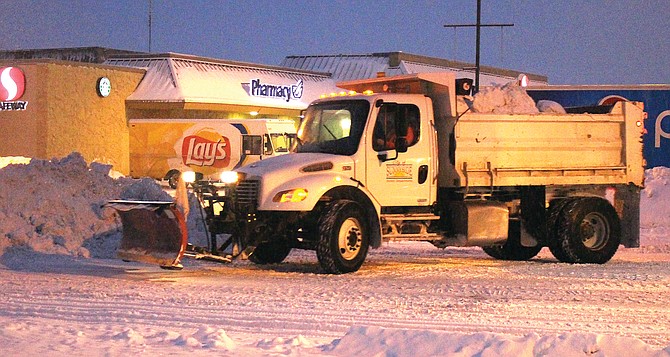 SUNNYSIDE — Municipal budgets and manpower are being stretched as Lower Yakima Valley cities deal with plowing and removing snow.
"This is more snow than we've had in decades, we're trying to deal with it," Sunnyside Public Works Supervisor Shane Fisher said yesterday, noting the city has four snow plows and four drivers to clear 60 miles of streets.
Crews are taking care of major streets first — like Edison and Lincoln avenues and 16th and Ninth streets.
Then they hit residential streets.
"The problem we're having is we have so much snow on the ground we have to haul it off," Fisher said.
He said it takes about three days to plow the entire city.
Another issue is the added time required to put sanders on trucks; Fisher estimates that to be about three hours.
City snow removal crews are working in shifts and piling up the overtime.
"One guy has 20 hours of overtime," Fisher said.
He understands frustrations of residents whose streets haven't been plowed, or have a berm blocking their driveway when they are.
"I would ask them to just be patient," Fisher said. "It takes time to get through it."
As for the berms created by plows, Fisher said the city's responsibility is to keep roads open, and not worry about driveways.
"Otherwise, we'd be out clearing thousands of driveways," he said. His department makes exceptions when they receive calls from the elderly and handicapped.
Motorists are also finding traffic light delays due to the snow. Signals have been switched to timers rather than using with first-come, first-serve sensors, Fisher said.
According to Fisher, city snow removal coffers are holding up, so far.
"The last few years we haven't had much snow," he said. "So, we have a little bit of money."
But that's not the case for all area cities.
Last night, the Grandview City Council agreed to increase the city snow-removal allocation by $50,000.
The city had an initial $27,850 budgeted, but 22,000 has already been spent, City Administrator, Cus Arteaga said, noting city workers have been adjusting shifts to try to curtail overtime costs.
The city is an calling in an outside contractor — Tom Perez Trucking — to help clear its 50 miles of streets, Arteaga said.
Still, many streets remain unplowed.
With three public works employees out sick, Arteaga said the city has been running a skeleton staff.
As a result, Arteaga himself was a driver yesterday.
And it's not just snow.
Sub-zero temperatures have frozen pipes.
"We had a 2-inch water- main break in an apartment complex," Arteaga said.
Clearing downtown arterials and streets near schools are the top priorities, he said.
"The residential streets are challenging," Arteaga said. "We don't have enough dump trucks and plows."
When roads are plowed, some snow is piled in the middle, and in other places on the side.
The city hears complaints either way.
"We feel like the born loser," Arteaga said. "If we plow to the middle people don't like that they have to go all the way to the end of the street to turn left. If we plow to the side they don't like that we're blocking their driveway."
In Granger, a road grader and two back hoes usually have streets cleared in nine hours, Public Works Director Jodie Luke said.
Priorities include schools, the fire station and the main streets, he said.
"As soon as it stops snowing, we start," Luke said of the city's six drivers.
Mabton crews start with arterials and areas around schools, Mayor Mario Martinez said.
The city has two or three drivers available. A volunteer firefighter has also been called to help clear areas with a backhoe.
"Our guys are putting in a lot of long hours," Martinez said, noting the city snow-removal budget will need to be amended. "Once we get through the winter we'll make adjustments."