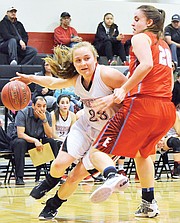 PROSSER — Area girls basketball teams from Prosser to Granger continue to be among the top teams in the state.
In Prosser, the 10-2 Mustangs are ranked No. 6 in 2A. In Sunnyside, the Grizzlies hold the No. 2 4A spot and Sunnyside Christian is ranked No. 11 in 1B.
In Granger, the Spartans are ranked No. 6 while league rival Zillah is ranked No. 12.
Mabton is ranked No. 10 in 2B hoops.
Last Friday in 2A action, Prosser defeated Quincy, 66-13, and Selah dunked Grandview, 67-38.
Granger won its game against Goldendale, 66-34, and Mabton upended DeSales, 47-37. Sunnyside Christian trounced Trout Lake, 61-6,
Bickleton's score at Klickitat was not reported.
Sunnyside dropped in the state's 4A rankings to No. 2.
Bothell took over the No. 1 spot with a 12-1 record — the Grizzlies (10-0) didn't play prior to the most recent poll.
On Saturday, the Mustangs and Greyhounds had a night off. But Sunnyside beat Eastmont, 65-52; and Granger sacked Naches, 57-27.
In 2B action, Mabton defeated Dayton, 51-30.
Meanwhile, Sunnyside Christian topped Klickitat/Glenwood, 65-29; and Bickleton won, 73-41 over Yakama Tribal in 1B games.
Prosser
It was a lopsided victory for the Mustangs over the Jackrabbits.
The Mustangs ended the first quarter with a 22-3 lead, allowed Quincy 2 points in the second quarter and held the visitors to just 3 points in the third.
Prosser's girls finished by outscoring the Jackrabbits, 12-5 in the fourth.
Marissa Cortes and Asia Olivarez of Prosser each scored a game-high 13 points. Abby Rodriguez contributed to the final score with 11 points.
Brandi Groeneveld and Olivarez each had 7 steals, and Brooke Wheeler had 5 rebounds. Teammate Madison Stallcop scored all 9 of her points from behind the 3-point arc.
The Mustangs travel to Grandview tomorrow.
Grandview
The Greyhounds struggled to sink their shots against Selah.
"We didn't shoot the ball well," Grandview coach Chad Bunker said. "We executed our offense, but couldn't drop our shots."
Selah's Adriel Willis scored a game-high 27 points. Madison Diener led the Greyhounds with 9 points and 7 boards.
The Vikings limited Grandview's Grace Meza to 5 points and Michelle Ruiz to 4. Grandview's Marlene Castilleja and Marin Bender each tallied 6 points.
Grandview drops to 5-5 in conference play, 6-6 overall.
Granger
The Spartans won both their weekend games. They were led by Alexis Castro, who posted 21 points Friday against Goldendale and 22 against Naches on Saturday.
Against the Timberwolves, Granger led 28-10 after the first quarter. In the second, the Spartans held Goldendale to 4 points.
The Spartans had a slower start Saturday, posting 4 points in the first quarter while the Rangers scored 11.
Granger rallied, outscoring the visitors 26-7 in the second quarter, 17-6 in the third and 10-3 in the final.
Lily Stewart of the Spartans had 10 points Friday. Teammate Jayleen Vasquez scored 14 on Saturday.
Kristin Bighorn led the Timberwolves Friday with 8 points. The Rangers' Elizabeth Anderson tallied 16 points Saturday.
Mabton
The Vikings (6-0, 9-3) hosted DeSales (2-4, 4-6), starting the game with a strong 18-7 first-quarter lead.
Mabton allowed the Irish a 12-10 scoring advantage in the second period, but maintained a 28-19 halftime lead.
The Vikings faltered in the third, scoring just 4 points to DeSales' 10.
Undaunted, the host team re-took the lead in the fourth, tallying 15 points. The defense held the Irish to 8.
Britnee Guerrero of Mabton scored a game high 15 points and collected 6 rebounds. Teammates Astrid Galarza and Selena Gutierrez tallied 10 and 11 points, respectively. Gutierrez also hauled in 9 boards.
Lauryn Lyons led the Irish with 12 points. On the boards, Natalia Maiuri collected 10 rebounds — all on defense.
Mabton traveled to Dayton Saturday. That game was not reported.
Sunnyside Christian
The Knights won both their weekend games.
They allowed Trout Lake just 6 points through four quarters Friday, and kept the Vandals from scoring more than 10 points after the first stanza.
The roster for Sunnyside Christian included two junior-varsity players Friday.
One of those players — Abby Bravo — scored a game-high 14 points; Madi Candanoza tallied 11 points.
"All 10 girls played all four quarters," Knights coach Al Smeenk said.
Alyssa Martin led the Knights Saturday with 17 points. Teammate Sailor Liefke tacked on 14 points and had 7 steals. Kristen Broersma had 9 rebounds, and Sophie Halma collected 7.
Haydan Harrington also contributed with 8 steals.
Smeenk said he was impressed with Klickitat/Glenwood.
"They never gave up; they had a lot of drive," he said.
With his team taking an early 19-10 lead, Smeenk said Sunnyside Christian pulled out of the press and played man-to-man the remainder of Saturday's game.
Sunnyside
The Grizzlies won their game Saturday, led by Emilee Maldonado. Other game details were unavailable at press time.
Bickleton
Coach Teresa Gannon did not report scores as of press time.