Is it the flu, a cold or stomach flu?
By Statepoint
Seasonal illnesses such as the flu, cold and gastrointestinal viruses are not only painful and unpleasant, they can be dangerous.
Take precautions to stay healthy and treat symptoms right away.
Many can't distinguish between symptoms of the seasonal flu, a cold and the "stomach flu." Knowing the difference, and how to properly treat each virus, can speed recovery.
While cold symptoms come on slowly and are limited to the head and upper respiratory system, flu symptoms affect the whole body and come on quickly.
Telltale flu signs are fever and body aches. However, these are also symptoms of stomach flu, which isn't related to a flu virus at all.
Common viruses that wreak havoc on the digestive system include the norovirus and the rotavirus. Ironically, an immune system weakened by seasonal flu can leave you vulnerable to these so-called stomach flu viruses.
Although high fever and body aches occur with both seasonal flu and viruses, these symptoms are more prevalent and severe in seasonal flu cases.
They are accompanied by fatigue and headache. The "stomach flu" from primary symptoms being watery diarrhea, and abdominal cramps, and nausea or vomiting.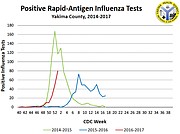 YAKIMA — Hospitalizations for influenza in the state have increased sharply since mid-December, leading to capacity problems for both emergency and inpatient care, health officials said.
A similar trend may be unfolding locally with at least one hospital reporting capacity problems, Yakima Health District officials said.
This year's flu viruses match closely with the strain used in this year's vaccine, meaning a better chance of the vaccine protecting valley residents.
Yakima Health District officials recommend getting a flu shot and avoid using emergency rooms for non-emergencies. They suggest calling primary-care providers or local community clinic for advice before going to the emergency room for a respiratory illness.
Influenza is more likely to be severe in infants younger than 6 months of age, people older than 65 years of age, pregnant women.
Those with other medical problems, for example, diabetes, heart disease, COPD, lung problems, neurological problems and obese are also more at risk for influenza viruses, officials said.
Antiviral treatment is usually recommended in such patients and is more effective when given early.