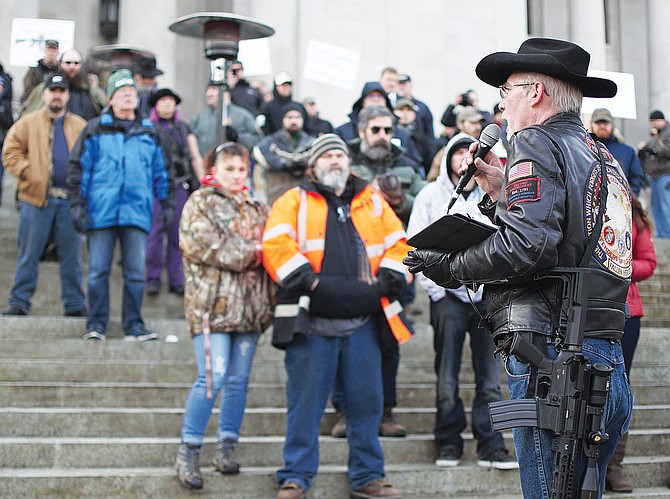 Bills sent to House committees
OLYMPIA — Several other gun-related bills have also been introduced this legislative session:
Rep. David Taylor, R-Moxee, introduced House Bill 1100 requiring the Department of Licensing to mail a renewal notice to a concealed permit licensee 90 days before expiration. The bill will be considered Thursday by the House Judiciary Committee.
Rep. Matt Shea, R-Spokane Valley, has introduced the following bills:
● House Bill 1004 relates to firearms during a state of emergency. It removes the governor's authority to prohibit the possession of firearms during a state of emergency. The bill also prevents any restrictions from being imposed on the storage or sale of guns. No hearing has been set for the bill now in the House Judiciary Committee.
● House Bill 1015 focuses on the carrying of concealed pistols. The bill would require a public stadium authority to allow a person with a concealed pistol license to carry a weapon. This bill also is assigned to the House Judiciary Committee, and awaits a hearing date.
● House Bill 1381 addresses reciprocity for concealed pistol licenses from outside Washington State, expanding license reciprocity to every state and to persons over the age of 18. The bill has been assigned to the House Judiciary Committee; no hearing date has been set.
Rep. Dick Muri, R-Steilacoom, is sponsoring House Bill 1174, which proposes a firearm safety and hunter education class for high schools that satisfies hunting license prerequisite requirement.
The bill would authorize a school district to adopt the program as an elective half-credit course. This bill is scheduled for a hearing Thursday before the House Education Committee.
— Enrique Pérez De La Rosa
OLYMPIA — After Initiative 1491 passed with 69 percent of the statewide vote last November, lawmakers have proposed legislation to protect gun owners from further restrictions.
The initiative has not significantly changed the type of legislation introduced this session, Gun Rights Coalition National Coordinator Rick Halle said. But he believes it sets a precedent for future restrictions.
"They might be more empowered to shoot for initiatives," Halle said.
Initiative 1491 authorizes courts to prevent a person from possessing or accessing firearms by issuing "extreme risk protection orders" at the request of police or family members of gun owners. For the court to issue a protection order, a defendant must be proven to be a significant danger to him/herself or to others.
The protection would last one year, subject to appeal. The measure also allows petitioners to apply for renewal of the order for an additional year.
Perhaps the biggest anti-gun bill offered this legislative session is an assault weapons ban proposed by Attorney General Bob Ferguson.
House Bill 1134 would prohibit the sale of assault-type weapons and high-capacity magazines.
But there are other bills, too.
Last Wednesday, Rep. Laurie Jinkins, D-Tacoma, filed House Bill 1387 requiring enhanced background checks and special licenses for assault-type weapons.
"Not everyone is a dangerous person," Jinkins said. "But let's make sure people who buy assault weapons are not."
This bill is fallback legislation if Ferguson's assault weapons ban fails to advance, said Dave Workman, Bellevue, senior editor of TheGunMag.com.
"How many background checks does somebody need to go through?" Workman asked. "You already need one to buy any firearm in Washington. Having a second background check to purchase semi-automatic rifles is kind of silly."
And not all bills are more restrictive.
Rep. Matt Shea, R-Spokane Valley, has authored several gun-related bills, including House Bill 1380 to repeal the law requiring background checks on every gun sale and transfer.
And Rep. Brian Blake, D-Aberdeen, has sponsored House Bill 1181, which would prohibit the Department of Licensing from keeping a database of pistol purchases and transfers.
Rep. David Taylor, R-Moxee, proposed a similar bill, House Bill 1190, that would also eliminate the state Department of Licensing database, but did not reference records acquired from sales.
Washington Association of Sheriffs and Police Chiefs Executive Director Mitch Barker claims law enforcement officers investigating gun crimes make inquiries of the database daily.
"That database is essential to law enforcement both for investigative purposes and to return stolen firearms," Barker said.
Two bills concerning firearm storage have also been introduced.
House Bill 1122, sponsored by Rep. Ruth Kagi, D-Seattle, would require gun sellers to offer to sell a locked box or gunlock with every gun sale.
And House Bill 1270, sponsored by Rep. Mark Harmsworth, R-Mill Creek, would provide a sales tax exemption on firearm safety products.
But it's impossible for law enforcement to ensure firearms are stored safely without infringing upon other rights, Workman said.

"You can't just willy-nilly dictate to people how to store firearms because there's no way to enforce it constitutionally," Workman said, citing the 4th Amendment to the U.S. Constitution, which protects Americans from unreasonable search and seizure. "We're not talking about guns. We're talking about personal privacy."
Gun rights are not just a partisan issue, because everyone has a right bear arms, Halle said.
"That doesn't come from the Constitution and it doesn't come from a permission slip," Halle said. "We have a human right to defend ourselves."