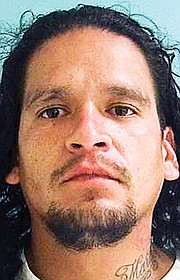 WAPATO — A local man is being sought for his alleged role in a Sunday night shooting that wounded two people.
Oscar Ibarra, 33, is being sought on a charge of first-degree assault, Yakima County Sheriff's Office Detective Sgt. Mike Russell said.
He is one of two men accused in the shooting. The other is 37-year-old Michael Allred of Wapato, Russell said. He was arrested Monday on a charge of first-degree assault.
Allred has been identified as the shooter, Russell said. The county's Violent Offender Task Force and members of the local SWAT team arrested him in the 300 block of J Street in Yakima.
The shooting happened at about 8:40 p.m. Sunday in the 10 block of Egan Road in Wapato, Russell said.
A 45-year-old woman in the shoulder and a 30-year-old man in the arm, Russell said. He declined to identify the victims.
The woman was hospitalized in stable condition, and the man was treated at the scene, Russell said.
Shots were fired after Allred and Ibarra allegedly got into an argument with residents in the area, he said.
Ibarra is described as having a distinctive tattoo on his neck, as well as tattoos on both hands as well as his chest and abdomen, Russell said.
"Mr. Ibarra is a known gang member with an extensive criminal history," he said.
He was last seen driving a black Volkswagen passenger car, he said.
Anyone with information regarding this case or Ibarra's location is asked to call the Yakima County Sheriff's Office at 574-2500 or 800-572-0490.
Tips, including anonymous tips, can also be called into Crime Stoppers of Yakima County at 248-9980 or 800-248-9980.
It was the second shooting in the Lower Yakima Valley in the past two weeks.
On Jan. 8, Juan Palomino, 25, was shot at 4:44 a.m. while he was a passenger in a car on state Highway 97, near the intersection of Buster Road in Toppenish, Chief Civil Deputy Ed Levesque said.
Palomino was shot by a passing motorist and later died at a hospital, Levesque said.
Deputies have still not located the shooter in that incident, he said.