OLYMPIA — Cattle feeders across Washington may become exempt from state regulations on dust kicked up by their livestock and equipment if a bills being considered by the 2017 Legislature become law.
The bills amend the Washington Clean Air Act to include cattle feedlots within exemptions for odor or dust caused by agricultural activity so long as the facility implements a fugitive dust control plan.
As defined by the proposed legislation, Senate Bill 5196 and House Bill 1299, fugitive dust is a particulate emission that results from human activity or wind, and that does not go through a chimney or vent.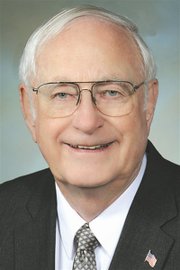 Sen. Jim Honeyford, R-Sunnyside, and Sen. Curtis King, R-Yakima, are among those sponsoring Senate Bill 5196.
If enacted, cattle feed-lots that have implemented dust-control plans would not have to register for an air-pollution permit from the Department of Ecology.
Because cattle feedlots must use best-management practices to be exempt, air quality near feeding operations would not go down, according to Rob Miller, general manager of the Moses Lake Division of Cattle Feeding Operations for the Agri Beef Company, a beef producer based in Boise, Idaho.
"We mitigate dust every day," Miller said. "It's in our best interest to keep the dust down. It's in everyone's best interest. It's in our animals' best interest."
The Clean Air Act regulates outdoor air pollution. It also gives power to regional pollution-control authorities to put federal and state air pollution-control regulations into place.
In addition, it requires permits for certain facilities that are sources of air pollution and allows state and local authorities to impose registration requirements.
The state law exempts dust and odor created by agricultural activity that is consistent with good agricultural practices.
Before issuing a notice of violation, the air-pollution authority must work with a third-party expert to confirm that the activity is consistent with good standard practices.
However, because cattle feeders are required to register for an air operating permit, as are all businesses and industries that produce air pollution, the exemption does not apply to them.
Jack Field, incoming executive director of the Washington Cattle Feeders Association, says the goal of the bill is not to avoid regulations on dust.
He said cattle feeders worked with the Department of Ecology to publish guidelines in 1995 on managing dust and keeping air clean of pollution.
"We're an agricultural activity and we'd like to be treated like an agricultural activity," Field said. "This is a great opportunity to re-focus and come back to continue work with the Department of Ecology."
The state Department of Ecology is concerned that passing the bill would reduce the department's authority to address public health concerns from cattle feeding operations, spokeswoman Camille St. Onge said.
Unlike other agricultural operations, dust created by cattle feedlots is not benign, she said.
Cattle feedlot dust contains fine particulates, hydrogen sulfide and ammonia that can result in respiratory problems for those exposed, St. Onge stated.
In an email to the Senate Agriculture, Water, Trade and Economic Development Committee, the state Department of Health also expressed reservations about SB 5196.
The department wrote that pathogens such as E. coli and salmonella are often present in manure that, along with urine, makes up fugitive dust emissions from cattle farms.
Over the past 18 months the Department of Ecology has been working alongside cattle feeders to update the guidelines published in 1995, St. Onge said. "We're big on partnerships here and that's been our approach."
SB 5196 received a public hearing last Thursday. Its companion in the House, HB 1299, sponsored by Rep. Brian Blake (D-Aberdeen) and nine House colleagues, received a public hearing Jan 23.
The proposed exemptions come just a few days after a state Department of Ecology groundwater plan for livestock operations also brought mixed reviews.
That permit proposal drew heat from environmental groups concerned it didn't go far enough.
Jean Mendoza of Friends of Toppenish Creek is part of a coalition that called for mandatory groundwater monitoring and science-based manure application.
Steve George of the Yakima Dairy Federation countered that farmers are making investments of time and money to both improve their operations and work with Ecology officials.