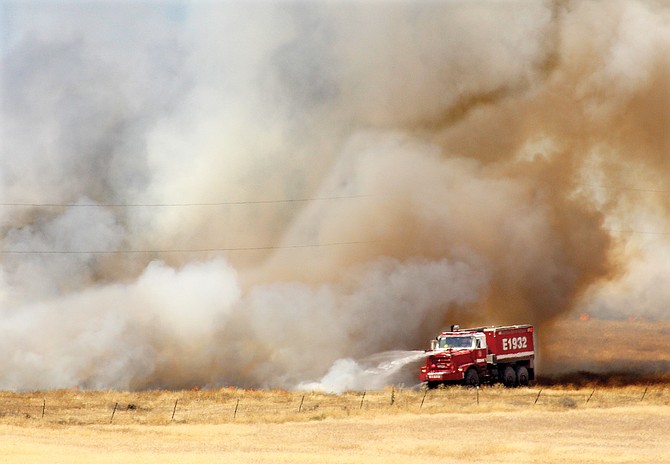 Crews working the Silver Dollar Fire said they have contained the blaze.
With temperatures soaring to about 100 degrees, crews have 100 percent containment of the now 30,984-acre fire, the largest active blaze currently in the state.
Approximately 131 personnel were fighting the fire that has burned through dry grasses and sage brush.
The fire started at about noon Sunday as two separate blazes on either side of the Silver Dollar Café, 30501 state Highway 24, Sunnyside.
By mid-afternoon, those fires had grown together, and flames raced east along state Highway 24 and north toward the Columbia River.
State Highway 24 was shut down for a day east of the Sunnyside turnoff at Highway 241. Officials also closed state Highway 240 at Vernita Bridge and north of Benton City.
While the fire is contained, it continues to burn near the Columbia River.
"Unburned pockets of fuel located well inside containment lines along steep, rocky slopes above the Columbia River may continue to burn but pose no risk of the fire escaping established control lines," a statement from fire incident command officials said yesterday.
Officials said smoke from the blaze and from other fires in the Moxee and White Salmon areas will likely continue to fill the air over the Lower Yakima Valley at least through the weekend.
While advising residents to remain vigilant for rising plumes of smoke, fire officials also said dust devils will likely be common.
"Please note that hot, dry weather, coupled with atmospheric instability will create dust columns that may resemble smoke," the statement said.
Yesterday, firefighters continued securing the fire lines and mopping up hot spots and smoldering debris.
Crews were also busy repairing fences that had to be cut for fire personnel and equipment to access the blaze. They also smoothed out dozer lines and took steps to limit erosion.
State-level fire mobilization ended at 8 p.m. last night, with local fire agencies taking over command.
"Our team would like to thank the community and all of the cooperating agencies for their support," Southeast Washington All Hazard Type 3 Interagency Team Incident Commander Chris Hutsell said, noting his team will be mobilizing for other fires around the region. "Collaboration from many individuals, agencies and organizations made our fire suppression effort a success."
Agencies involved in fighting the fire include the federal Bureau of Land Management-Spokane District, state Department of Natural Resources, Grant County Sheriff's Office, Benton County Sheriff's Office, Yakima County, U.S. Fish and Wildlife Service, U.S. Department of Defense, U.S. Department of Energy, U.S. Coast Guard and private land owners.