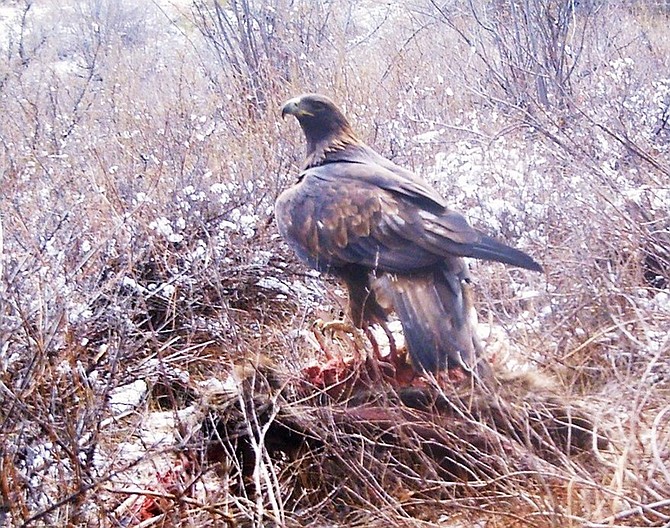 A Department of Natural Resources wildlife biologist has been examining the benefits of trail cameras.
They can be used for more than hunting, Ken Bevis said.
Hunting can take hours and require excruciating patience, not to mention "... boredom punctuated by the thrill of a momentary wildlife sighting," he said.
With trail cameras, also known as game cameras, can help prevent hunters and wildlife enthusiasts from suffering cold or hot weather conditions, wind, bugs and other issues that come with being out in the forest for hours on end, Bevis said.
The cameras are designed to operate independently, using sensors to trigger photos or videos, he said.
"I am no expert on these devices, but I enjoy using one and seeing images gathered by others," Bevis said.
Forest landowners often use the devices and the cameras have been used by wildlife biologists trying to capture elusive species. The first cameras on the market were cumbersome, but today's digital devices offer hunters and wildlife enthusiasts different capabilities, he said.
Basics to consider when choosing a camera include the trigger speed, flash options, video and still photography options, recovery time, ease of mounting the camera, the battery type and lifespan and how to download from the device, Bevis said.
A fast sensor-to-shutter time is preferred to prevent empty photo frames, he said. Visible flash can scare animals, therefore a low glow, infrared capability is ideal.
Some cameras record more than video or still images. They also can record sound, Bevis said.
When considering the recovery time for the camera, a burst mode, or the number of photos that can be taken in succession, is important to consider. Bevis recommends a setting of three shots.
He also prefers cameras that can be mounted to a tree or frame.
"Higher end models have more bells and whistles," Bevis said.
Placement of the camera is important. "Know what distance you need to get good pictures," he said.
Most cameras are seemingly designed for larter game, opposed to small reptiles and other animals, he said.
Another issue to consider is the camera's ability to focus when an animal gets close to it.
To determine the capabilities of a camera, Bevis suggests practicing with it in a setting that is known. "Walk in front of it at different distances," he said.
Checking the angle and looking for possible obstructions is also important for capturing the images desired.
"To capture animals as they approach and move through the frame, place the camera at an angle to the trail, or directly in line of the trail," Bevis said.
If there is a choice, he suggests pointing the camera north to prevent harsh light angles.
Bevis spoke with Wally Soroka of Colville.
"Some, if not most, cameras do take pretty decent close-ups," Soroka said. "I had a little competition a few years ago with an urban, East Coast relative (where big game was scarce) to see who could get the best mouse shots."
He said he had a lot of flying squirrel close-ups in his chicken coop at night.
"And many newer cameras record sound. It's not high quality audio but does offer a new dimension, like the sound of a drumming grouse to go along with the 10 second video or a curious deer sniffing the camera itself," Soroka said.
Bevis once placed a camera over a rotting deer carcass and the result was a series of photos of ravens, vultures, magpies, coyote and a golden eagle.
"Over the next few weeks, my photos showed the carcass disappearing a little bit at a time," Bevis said.
Trail cameras can do more than grab candid photos of animals, he said.
"It can help you read your landscape," Bevis said, noting the camera can help determine which animals are in the area and where they are moving.