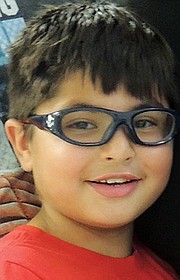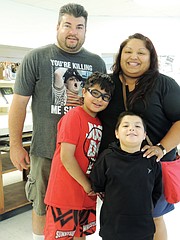 SUNNYSIDE — Nathaniel Wood, the 9-year-old who's been battling Severe A-Plastic Anemia in Seattle, is home for at least two weeks.
"We got back yesterday," his father, Steven "Woody" Wood said Wednesday.
To observe Nathaniel, you would think nothing is wrong.
He's as rambunctious as any 9-year-old.
Nathaniel said he hasn't suffered any pain since his ordeal began April 21, a day on which he awoke unable to walk, with his left side drooping.
"I was all numb that day," he said.
Just about as quickly as Nathaniel got to the Sunnyside Community Hospital, he was airlifted to Children's Hospital in Seattle.
By April 25, he and his parents knew he had the rare blood disease.
The Woods came home for two weeks while a treatment plan was worked
out.
Since that time, Woody, Nathaniel and Elijah, 6, have been living in Seattle, within 10 minutes of the hospital.
Meanwhile, Nathaniel's mother, Isabel, has been home, working at The Lockshop, to maintain a family income.
"I go back-and-forth, two or three times a week," she said. "My employer has been very good to us. When I get a call that I need to go, I go."
Woody, a Sunnyside School District transportation employee, has not
worked since April.
He will not return until Nathaniel's challenges are resolved.
According to Steven, Nathaniel takes seven medications in the morning every day. He repeats five of them every evening.
Severe A-Plastic Anemia is a rare blood disorder. Isabel said her son's bone marrow stopped producing red cells, white cells and platelets. It is treated much like cancer.
"They don't know how it happened, and they may never know how it happened," Isabel said.
The good news is that Nathaniel is producing all three now. The not so good news is that he's not producing enough.
"It's enough to give us hope," Isabel said.
The Woods will go back to Seattle on Aug. 15 for a bone marrow aspiration, which is like a biopsy. Doctors hope to decide which fork to take in Nathaniel's road.
If his bone marrow is working satisfactorily, he'll continue medication for one more year and then ween himself off of it for nine months.
If not, Isabel said, then it's likely they'll start the process for a bone marrow transplant.
"There are some matches on the national donor list," she said.
Although there hasn't been any pain, it's been a tough time for Nathaniel. He couldn't swim, bowl or wrestle (his favorite). He did make friends with an 8-year-old from Seattle and played basketball. Mostly he's played video games with dad and Elijah at the Ronald McDonald House.
Steven and the boys have been staying in a studio-like apartment at the Seattle Cancer Care Alliance Apartments. Several apartments share a kitchen.
So far, the Woods' insurances and Children's Hospital itself have paid all the medical costs. Steven doesn't know whether to expect bills or not. He asked that they be sent in a timely manner if they are coming.
If that time comes, the Woods are grateful to friends and family and others in Sunnyside who have helped. More than 100 people have donated on the GoFundMe page online.
"That's just awesome," Isabel said. "At first, I didn't want anybody to know what was happening, but then everybody wanted to help."
"I really want to thank the Daily Sun News for letting us use their parking lot for a car wash and bake sale," Steven said.
"The people of Sunnyside contributed $2,300 that day," Isabel said.
Nathaniel hopes to get back to school in the fall, but he has one concern.
"I hope I don't have to go back to fourth grade," he said.