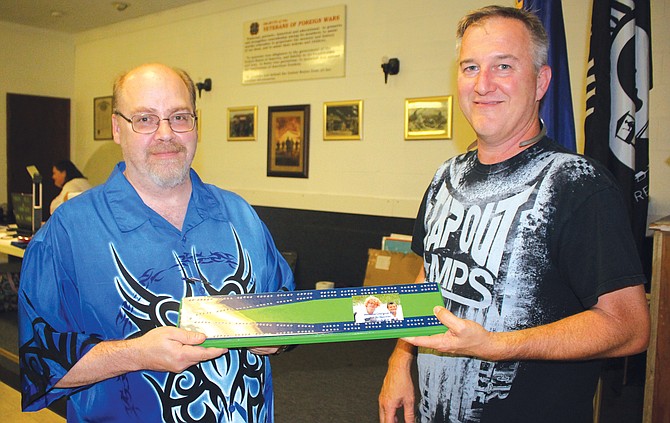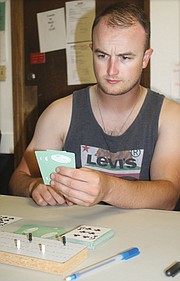 SUNNYSIDE — Cribbage players from across the Pacific Northwest are in town this weekend for four days of tournaments.
And some of the players drove more than 13 hours just to be here.
Terry Van Clieaf, 65, made the trip from Edmonton, Alb., Canada.
"Why? Because I enjoy it (cribbage) — the game and the comradery."
Van Clieaf was one of more than a dozen players to compete in Thursday's opening tournament this weekend at Veterans of Foreign Wars Post No. 3482, 615 North Ave.
It's the 15th year the mid-week tournament has been hosted here by organizer James Morrow, 45, of Sunnyside.
Top players yesterday advance to playoffs today.
Sandy Sands, 51, of Helena, Mont., was the best of the west yesterday, earning the No. 1 seed into today's action. He also won a hand-made cribbage, crafted by Morrow.
"I love cribbage," Sands said, noting yesterday marked his best play ever. "It's an opportunity to meet people all over the country."
Sands said he had the hottest cards yesterday, and that's why he won the top seed.
Sands has never been to Sunnyside before, so he plans to make a vacation of his time here, too.
Jerry Cutsforth, 78, and Kai Lemrise, 24, both came from Crescent City, Calif.
"There are four chances to get points," Lemrise said.
"He only needs a few points to be ACC (American Cribbage Congress) Rookie of the Year," Cutsforth noted.
If he makes the points, Lemrise said there are plenty of prizes awaiting him.
"I'll be recognized by the whole congress," he said. He will also qualify for the national cribbage competition.
The points year runs from Aug. 1 through July 31, so he only has a few days to make it.
"I like the competitiveness of it," Lemrise said.
Forty players are expected this weekend, Morrow said. Weekend games are part of the 16th annual weekend tournament.
"We have one more player than last year," Morrow said calling the cribbage tournament a success. "It's steadily climbing.