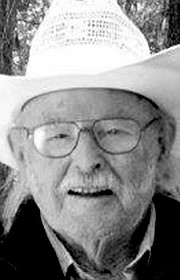 Harold Edward Mulford, 96, of Sunnyside, went to be with the Lord on July 22, 2017, surrounded by family.
He was born on May 25, 1921, to Henry and Nellie Mulford, in Hays Center, Neb. He moved to Washington State when he was 16, later settling in Sunnyside at the age of 29.
Harold was a man of many talents. He was offered a professional baseball contract by the Brooklyn Dodgers, a professional boxing contract, and had several opportunities to go pro in rodeo. Instead, Harold chose to follow his true passion of farming and ranching. Other passions included bird hunting, clay pigeon shooting tournaments, watching sports, camping, going to rodeos and spending time with family during Monday night dinners and the annual Mulford family reunion.
Harold never knew a stranger and wherever he went, he would quickly brighten up the room with his smile and charismatic aura. No matter how he might have been feeling, even in his final days, he would always crack a wise joke and try to have the most upbeat and positive attitude so he could brighten up someone else's day. Whenever someone would need help whether it was with finances, needing somewhere to live, needing a handyman, or something as simple as just being there to talk to he wouldn't hesitate helping even if he couldn't afford it, they didn't deserve it, or if he needed help himself.
Harold married his first wife Dorothy when he was just 19 years old. They had three children Marilyn, Mark, and Paul. They were married for 22 years. In 1963, he married Louise and with loving arms welcomed daughter Rhonda into the family. They then went on to have three children of their own: Marty, Kevin, and Sheri. They were happily married for his last 54 years and have inspired many on how to create a long-lasting marriage.
Working well into his 70s, Harold had many jobs, mainly in farming and ranching. During World War II, he enlisted in the Navy, where he was quarantined to his farm as the Navy thought owning and operating the farm would serve the country better. Later in life, he got a technical certification from J.M. Perry in small engine repair where he used those talents fixing lawnmowers for friends and family into his 80s.
He is survived by his wife, Louise; brother, Arwin "Vern;" daughters, Sheri (Rod) and Rhonda; three sons, Paul (Laura), Marty, and Kevin; grandchildren, Rodney, Cassie, Kayla, Ryan, Lori, Jim, Mike, Karen, Nicky, James, Brandi, Tiffany, Gena, April, Justin and many great and great-great-grandchildren, nieces, and nephews.
He was preceded in death by his parents, children Mark and Marilyn, brothers, Kenneth, Leonard, Henry "Bruce" and Albert "Jack;" and sisters, Dorothy, Mable, Margaret and Virgie.
There will be a viewing from 4-8 p.m. Wednesday, Aug. 2, 2017, at Valley Hills Funeral Home in Sunnyside.
There will be a funeral at 10 a.m. Aug. 3, 2017, at Valley Hills Funeral Home, followed by graveside service at Outlook Cemetery.
Condolences can be sent to www.vallyhillsfh.com.
Valley Hills Funeral Home in Sunnyside is in care of arrangements.
More like this story