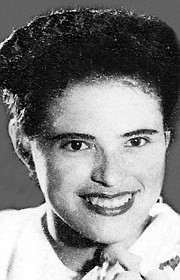 Maria Caballero, 86, passed away on May 26, 2017, at Avalon Health and Rehabilitation Center in Pasco.
She was born on May 7, 1931, in Jalisco, Mexico, the daughter of Reyes Moreno and Francisca Cano. She married Gabino G. Caballero in Eagle Pass, Texas.
Maria is survived by her children; Gloria C. Cantu, Martha C. Headley, Francisco (Mary) Caballero, Alberto Caballero, Jesus J. Caballero and Mary Anne M. Caballero; numerous grandchildren, great-grandchildren and great-great-grandchildren.
Maria was preceded in death by her parents, her husband and sons-in-law, Dale Headley and Sabas Cantu.
There will be no funeral service at Maria's request.
A Celebration of Life will be planned at a later date.
For online condolences visit www.Askhillcrest.com.
More like this story