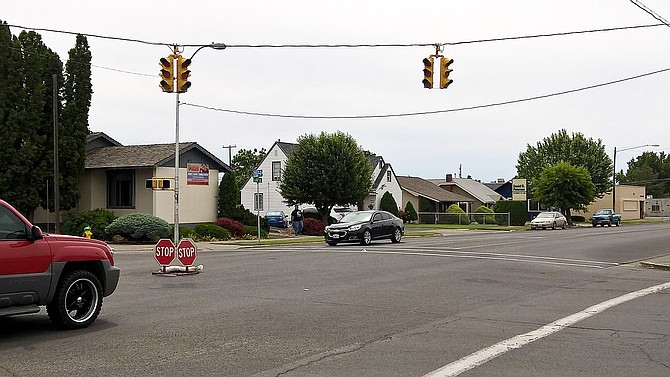 PROSSER — Much of the city was without power for more than 10 hours yesterday after a squirrel knocked out the substation on Sixth Street.
"This is my only day off and I can't cook my kids breakfast," Jose Arreola of Outlook said as his children, ages 5 and 2, wriggled restlessly awaiting a visit to Central Park.
Jonathan Saucedo of Sunnyside was worried about charging his phone.
"I'm down to 1 percent," he said.
The outage was a big inconvenience for Pedro and Guadalupe Dominguez of Prosser.
They were in the middle of doing laundry at Valley Laundry on South Sixth Street when the rogue squirrel struck.
"We're doing ok, but we've been here since 6:30 a.m.," Guadalupe Dominguez said.
The outage began just before 8 a.m. and left 6,418 local customers without electricity, Pacific Power spokesman Tom Gauntt said. "Just got the word," he said. "Crews are at work."
All, but about 1,200, had power by 5 p.m. and service was restored citywide by 6:30 p.m.
Elsewhere in town, carnival rides at St. Joseph's Springfest were temporarily grounded, but by mid-afternoon, the festival was back in full swing.
A few churches reportedly canceled Sunday services.
Despite the widespread outage, there were some areas unaffected by the cut in electrical service.
South First Street near Midvale had electricity, as did the area surrounding the Outpost on Waneta Road and neighborhoods near Sunnyside High School.
Sun Terrace Retirement and Assisted Living, 907 Ida Belle St., also had power.
"I guess we got lucky," Michelle Coe of Sun Terrace said.
City crews responded with makeshift stop signs to replace dark traffic signals.
"We have generators for the police and fire departments," City Manager Don Day said.
And there are generators, including portable units, for the wastewater pump station, Day said, noting officials were notified of the outage through an automated alert system. After that it was a matter of waiting for the lights to go back on.