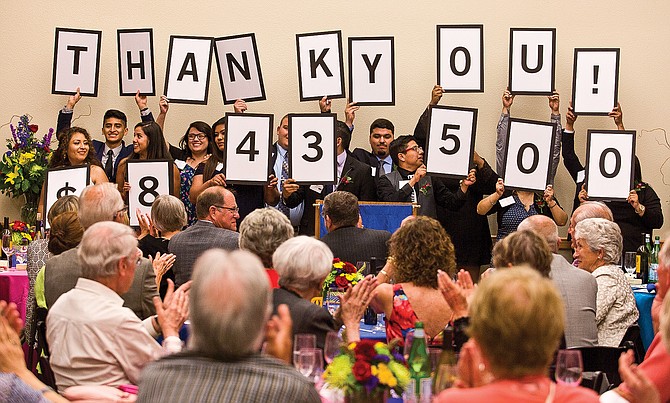 TOPPENISH — The Bounty of the Valley Scholarship Dinner, an event in dedicated to raising scholarship funds for Heritage University students, raised a record $843,500 this past weekend.
The amount breaks the previous record of $674,350 set just last year.
Heritage biomedical science major Karina Borges, who served as the student speaker during the event, said she was honored to represent the many students, who like her, have excelled because of the scholarships they have received.
"I am very excited to show the generous individuals the results of the investments they make in student scholarships," Borges said. "I get to thank them in person; without their philanthropy, attending college would be a more challenging task," she said.
"This year marked the 31st anniversary of an event which celebrates talented men and women who are transforming their lives and our communities through the gifts of the generous individuals whose contributions make it possible for them to earn their college degrees," Borges said
Heritage University students served as hosts for 270 guests at the sold-out event, welcoming them as they arrived on campus, sharing their Heritage experiences and expressing their gratitude for their ongoing investment.
Virginia S. Hislop, an organizer of the very first Bounty of the Valley event and who has attended every year since, was overjoyed by record–setting achievements two years running.
"These scholarships level the playing field for our students, who are as capable any student from Seattle or Chicago, but who do not have the same financial resources," Hislop said.
"By giving to our scholarship fund, our donors are making an investment in their community because our students go on to become the doctors, nurses, teachers and business leaders who will work at home in the Yakima Valley."
Since its inception, more than $4 million has been raised, with every dollar going to student scholarships.
Director of Donor
Development and organizer of the Bounty of the Valley, Dana Eliason, said "…it's been a pleasure to bring generous benefactors and grateful students together at this event year after year.
"Our students excel because of the opportunities provided to them, and it warms my heart to see the students share their gratitude with those who help make higher education a reality."