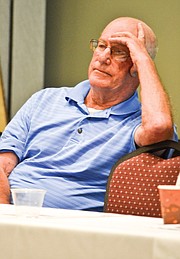 PROSSER — A state official came to listen. Area officials and farmers took her up on the offer.
State Commissioner of Public Lands Hilary Franz visited yesterday at the Walter Clore Center.
It was one of five meetings over a two-day period for her Rural Communities Partnership Initiative.
Frank Berg farms 21,000 acres of wheat in Horse Heaven Hills.
"It's supposed to be a partnership, but when you double the rate that's a dictatorship," Berg told her.
One of Franz's associates in the Department of Natural Resources (DNR) said the agency's hands are tied in assessing market value.
Norm Johnson, a 14th District legislator, said many are suffering because of public land ownership.
"In Skamania County only 6 percent of the land is taxable." Johnson told Franz. "We've got to do something about this."
Franz had supporters in the audience, such as officials from West Richland, where the partnership is leading to more irrigation and farming on state lands.
"Our revenues on state-owned agricultural lands have grown 50 percent since we started," Franz said of the program.
Prosser City Administrator Dave Stockdale has said the city hopes to benefit from it.
So, is Prosser in line to have area state lands opened for farming, industrial or other uses to benefit the local economy?
Franz was non-committal.
"Maybe," she smiled.