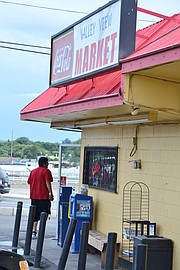 Brusic: Crime increasing in area
There's a reason for increased in armed robberies, Yakima County Prosecuting Attorney Joe Brusic said yesterday.
Most are related to increased drug traffic, stolen gun cases and gang activity, he said. Those are the county's Top 3 felonies prosecuted by 24 of his office's 34 attorneys – drug, domestic violence and gangs, Brusic said.
Speaking to Daybreak Rotary Club, he said his office sees 3-4 felony drug cases daily.
"Most of the cases are for delivery or illegal possession of drugs," he said.
And there are more gang-related cases.
"We are concerned about potential for increased gang violence," he said.
SUNNYSIDE — Police are looking for leads in armed robberies at two local stores yesterday.
Officers believe they may be connected.
At 4 a.m., an Hispanic man robbed Valley View Market, 107 W. Lincoln Ave., at gunpoint, police said.
The suspect was wearing dark clothing and is believed to be approximately 5-foot-6 or 5-foot-7 and 150-160 lbs.
A man fitting that same description moments later displayed a knife and robbed Pick a Pop, 1524 Yakima Valley Hwy.
Witnesses said they believe the man fled with about $400 in cash from the two stores combined.
There were no injuries in either of the robberies, officials said.
"Now I'm scared," Pick a Pop employee Pina Rosas said.
Young Kim owns Valley View Market, and he suspects the man may have cased his store.
"We always have two co-workers in the store, except during that time," Kim said. "I'm worried about it."
Police Cmdr. Scott Bailey said his department is working on obtaining photos of the suspect.
"I am hoping to have some surveillance images sometime tomorrow (Friday) or over the weekend," Bailey said.
Yesterday's robberies followed a police report earlier this week "…of individuals attempting to break into convenience stores/markets in the late night/early morning hours this week."
The convenience store robberies follow recent cases in the city of Yakima.
"I knew it was only a matter of time until it starts over here," Kim Yanez posted on Facebook. "We can't let this area get as bad as Yakima."