Photo Gallery
Golfing for a cause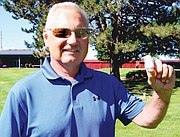 SUNNYSIDE — The Northwest Community Foundation hosted its annual Hogue Classic Golf Tournament last Friday at Black Rock Creek Golf Course.
Results for the fundraising golf tournament on the course at 31 Ray Road were not available at press time.
The 18-hole event benefitting Wayne Hogue Capital Fund started with an 18-hole scramble and shotgun start at 9 a.m.
The Wayne Hogue Capital Fund provides money for medical center facility improvements, equipment and training, officials said.