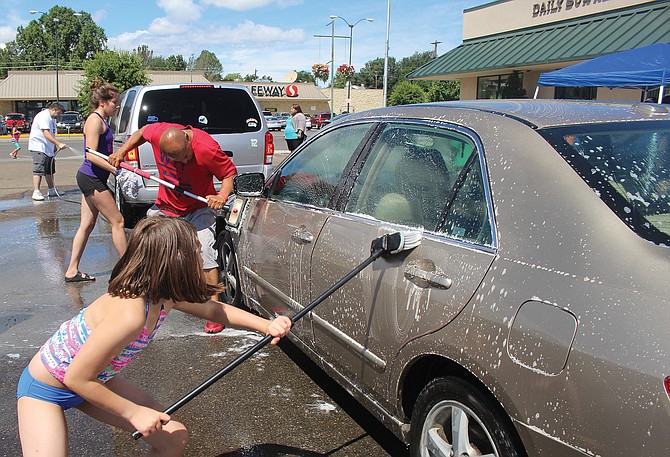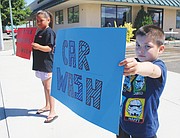 A car wash supporting a Little Grapplers teammate being treated for a rare blood disease at a Seattle hospital was a success, thanks to the support of the community.
The Saturday car wash at The Daily Sun, 600 S. Sixth St., netted $2,325 for Nathaniel Wood, 9, organizers said.
Wood has been at Children's Hospital since being diagnosed with Severe Aplastic Anemia nearly two months ago. The disease is currently being treated with medications, his father, Steven "Woody" Wood said.
If the treatment is ineffective, doctors told the family Nathaniel will need a bone marrow transplant.
Woody said the family and doctors hope that isn't necessary. He said it is unknown specifically how Nathaniel acquired the disease.
"It could have been triggered by a virus or infection," he said.
Nathaniel has wrestled for the Sunnyside Little Grapplers, played football for Sunnyside Grid Kids and baseball for Sunnyside Cal Ripken Minors 3.
For a couple more days, he is a fourth-grader in Mrs. Baker's class at Chief Kamiakin Elementary School. He keeps in touch with the community via video and Facebook live.
So far, more than $11,000 of the $15,000 goal for expenses not paid by insurance has been raised via a GoFundMe.com account (search for Nathaniel W. fight against SAA) and other activities.
"The community really stepped it up," said Little Grapplers Coach Daniel Guillen, one of the car wash organizers. "Some people even showed up just to drop off donations."
The car wash was a lot of hard work on the part of team members, parents and everyone who came together," he said.
"It was a good time," he said.
The Wood family was present for the fundraiser.
"They were very thankful," Guillen said.
"We're very appreciative," Woody said. "I was surprised so many showed up."