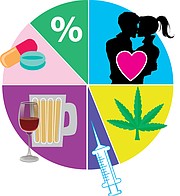 SUNNYSIDE — The local school district is making progress in addressing student depression.
That's according to results of a statewide Healthy Youth Survey released last month.
"This information is very vital to our schools and communities as they design instruction and programming to meet the needs of the students we serve," Educational Service District No. 105 learning support Coordinator Anna Marie Dufault said.
Sunnyside
Perhaps the most dramatic local number in addressing depression is that attempted suicide among eighth graders has dropped by nearly half since 2014.
The figures show 15 percent attempted suicide in 2014, compared to 8 percent in 2016.
"There are encouraging drops in depression and suicide contemplation and there is a significant drop in suicide attempts at both 8th and 10th grade," Sunnyside United-Unidos Executive Director Cathy Kelley said.
She said the non-profit's work with local schools will continue to focus on prevention and strengthening families.
"The areas of focus remain largely the same as they have been for the last four years, since we are seeing positive trends in the work we are doing," Kelley said.
Sunnyside's attempted suicide rate among eighth graders is now even with the state average of 8 percent records show.
And that rate among 10th graders is below the state mark.
Survey results show Sunnyside's 10th grade rate dropped from 12 percent to 7 in 2016. The state and county averages are both 10 percent.
The district's rates also compare favorably with Yakima County's average.
In other 2016 results, 31 percent of Sunnyside eighth graders said they were depressed, down from 38 percent in 2014.
The percentage of eighth graders considering suicide dropped from 20 to 13 percent. The average is 17 percent for both Yakima County and the state.
In other Yakima County figures, numbers show that on average 18 percent of high school seniors considered suicide. That number is down slightly from 2014, when 19 percent considered it.
And 16 percent of high school seniors countywide made a plan to commit suicide, records show.
Grandview
The only other Lower Yakima Valley school district to provide survey data was the Grandview School District.
That district's comparative data is limited, as the only numbers available for both the 2014 and 2016 surveys are from 12th grade.
"The 2014 report only includes Grade 12. Grade 6 was not administered the survey and Grade 10 had one school with less than 15 surveys," Human Resources Executive Director Matt Mallery said. "With that small of a sampling group, they would not release data since individual students could be more easily identified and would remove the purpose of an anonymous survey."
The limited numbers show the district is making inroads in dealing with depression and suicide among high school seniors.
The 2016 survey shows 8.7 percent attempted suicide, compared to 10.3 in 2014. The statewide average in 2016 was 7.6.
And nearly three times as many Grandview seniors said their school provided information about the warning signs of suicide and how to get help. The 2016 figure was 51 percent, compared to 20 percent in 2014.
And staff members are becoming informed, too.
"One of the things I've been excited about is we're trying to become a more trauma-informed school district," McClure Elementary School Counselor Jamie Smasne said. We have had a variety of professional development opportunities around adverse childhood experiences."
Adverse experiences can range from abuse to divorce to a parent with addiction issues, she said.
In her school, Smasne said "dialogue circles" have been created during the school day to give students time to talk about their weekend or topics of their choosing.
"We had a bullying problem but noticed no kids reporting it," Smasne said. "Once we had dialogue circles ongoing, we had a lot more reporting… we were able to effectively deal with the situation and stop it."
But the 2016 survey results also show that Grandview schools have room for improvement.
For example, the number of high school seniors in Grandview considering suicide jumped from 16.6 to 20.2 percent between 2014 and 2016.
Even more sobering, the number of Grandview seniors who actually reported making a plan jumped by almost half. The total was 16.3 percent in 2016, compared to 11.7 in 2014.
— Editor's note: This is the first in a four-part series on area results of the Healthy Youth Survey.