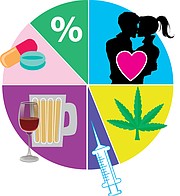 SUNNYSIDE — One area school district is seeing an increase in the number of students who use electronic cigarettes, also known as e-cigarettes.
Yet another is experiencing an increase in students using prescription drugs not prescribed to them.
That's according to results from the state's 2016 Healthy Youth Survey.
Sunnyside
While the number of Sunnyside 10th graders using e-cigarettes dropped by more than half between 2014 and 2016, from 18 to 8 percent, use is increasing among eighth graders.
Figures show that 9 percent of them used within a 30-day period in 2014, compared to 13 percent in 2016.
However, the entire state is dealing with growth in e-cigarette use.
The number of 10th graders using e-cigarettes has more than doubled statewide in the past two years, from 6 percent in 2014 to 13 percent last year.
And figures show use among eighth graders is on the rise threefold statewide, from 2 percent in 2014 to 6 percent in 2016.
However, 30-day marijuana use is down among eighth graders, from 18 to 14 percent, records show.
And the districts survey results for 10th grade 30-day alcohol use show a drop from 20 to 18 percent. That's below the statewide average of 20 percent.
"Wow, it's really impactful to see that," Sunnyside United-Unidos Executive Director Cathy Kelley said.
And the numbers are down dramatically from 2008, when nearly a third of all Sunnyside sophomores said they had used alcohol within the previous 30 days.
"That's remarkable," Kelley said. "We have challenges and we're addressing those challenges."
Also during the past eight years, the district has seen a 56 percent drop in the number of sophomores reporting binge drinking and a 30 percent decrease in 30-day marijuana use.
Grandview
The district is seeing a jump in the number of students misusing prescription drugs.
In 2014, 13.7 percent of Grandview seniors said they had used prescription drugs that weren't prescribed to them. That number jumped to 21.5 percent in 2016.
The district is taking steps to intervene, with students at a young age, school counselor Jamie Smasne said.
"We're building relationships with them so we can then have an impact when something happens," Smasne said.
And the district's efforts are leading to progress. Binge drinking among seniors is down from 20 percent in 2014 to 16.1 percent in 2016.
— Editor's note: This is the second in a four-part series on area results of the Healthy Youth Survey.