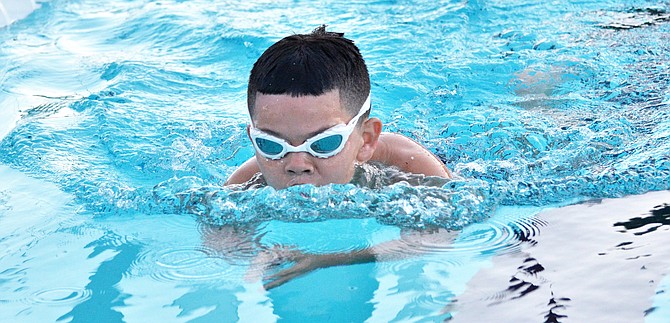 SELAH — A few experienced swimmers competing for the Grandview Neptunes swim team last night were able to claim Top 2 finishes Tuesday, but the Dolphins overwhelmed the young team, 671-147.
Stand-outs among the Neptunes included brothers Landon and Tavian Valenzuela.
Landon Valenzuela swam away with first place finishes in the 8U 40-yard butterfly and breaststroke events.
He tagged the end of the pool in 53.20 in the 'fly, while teammate Azariah Haslam earned runner-up honors in 1:17.71.
In the breaststroke, Valenzuela finished in 52.68, while Selah's Ian Ziegler closed in at 55.96.
The young Grandview swimmer was second in the 40-yard freestyle, slapping the edge in 44.96. The winner of the even was Ziegler in 37.08.
The older of the Valenzuela boys, Tavian, won the 18U breaststroke in 23.52. He was second in the butterfly, backstroke, freestyle and individual medley races, clocking 21.15, 26.27, 19.15 and 1:57.51, respectively.
He was outpaced by Jacob Frampton of Selah in all but the breaststroke.
Grandview 10U swimmer Like Cortez won four races. He clocked 41.35 in the 40-yard butterfly, 39.12 in the breaststroke 41.89 in the backstroke and 30.69 in the freestyle. He didn't compete in the individual medley.
Cortez's older brother, Nicolas, earned a second place finish in the 16U 40-yard breaststroke, finishing in 27.40. He was outpaced by Will Richardson of the Dolphins in 26.52.
Also earning wins for the Neptunes were 14U swimmer Jessamyn Hellner-Gomez and 18U competitor Jaelei Grant. Both girls won the individual medley race for their respective ages.
Second place clockings were posted by 10U girls swimmer Alyssa Van Tress in the freestyle and 18U competitor Felicia Pena in the individual medley.
The Grandview Neptunes hosted Toppenish last night, and the Sunnyside Sharks hosted Selah. Results from the swim meets will be published in Monday's edition of The Daily Sun.