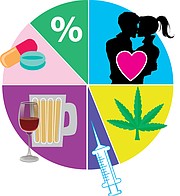 SUNNYSIDE — One area school district is seeing an increase in impaired driving among students, while another is making inroads.
That's according to results released last month from the state's 2016 Healthy Youth Survey.
Sunnyside
The biggest jump is in eighth graders driving after smoking marijuana. The 2016 survey showed 20 percent of them did so, compared to 11 percent in 2014.
The state average was virtually unchanged, 5 percent in 2014 and 6 in 2016.
"I think it's fair to say we certainly have concerns about that," Sunnyside United-Unidos Executive Director Cathy Kelley said.
Efforts are under way now to develop a media push on radio and in print to address impaired driving, Kelley said. It is also headed to the big screen.
"We are working on a video to show before movies at the theater," she said.
And outreach is planned on social media and the non-profit's website.
Eighth grade drinking and driving rose from 8 to 11 percent, well above the state average of 3 percent.
Tenth graders driving after smoking marijuana was unchanged at 18 percent, double the state average of 9 percent.
And there was a decrease in drinking and driving, from 18 to 14 percent.
Grandview
Fewer Grandview seniors are driving impaired, the survey shows.
The big gain was driving after smoking marijuana. The rate was 26.4 percent in 2014 compared to 18.6 last year.
The number of Grandview seniors driving after drinking alcohol showed a slight drop, from 19.4 to 18.6 percent.
The one area showing a slight increase was texting and driving.
There were 39.3 percent in 2014 who reported texting or e-mailing while driving, below the state's 42.9 percent.
The district's rate in 2016, however, was 40.8 percent.
Like Sunnyside, Grandview officials are reaching out to students' families.
"We have access to a drug and alcohol counselors," school counselor Jamie Smasne said. "But we work to pull parents in, and we do everything we can do to support that child."
— Editor's note: This is the third in a four-part series on area results of the Healthy Youth Survey.