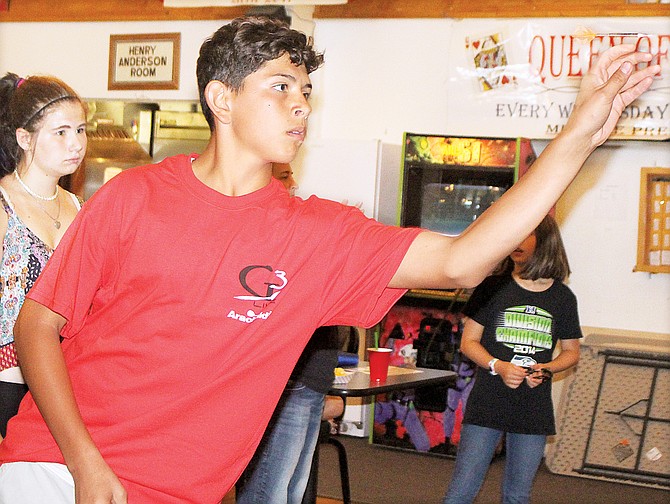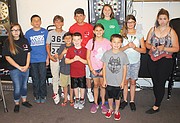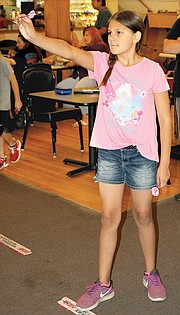 Youth Dart Tournament results
8-10 Division — 1. Marcelina Morado. 2. Anthony Almaguer. 3. Aiden Garcia, Alexis "Lulu" Taylor, Kisen Payne, 3-way tie.
12-15 Division — 1. Eddy "Junior" Almaguer. 2. Damien Almaguer. 3. Olivia "Livy" Harnack, Rykker Schilperoort, tie. 5. Alexis DeGraaf, Shantae Miller (tie).
Youth/Adult 501 — 1. Damian Almaguer and Kevin Luke. 2. Rykker Schilperoort and Matt Hernandez. 3. Kiesen Payne and Andrew Payne. 4. Marcelina Morado and Robert Morado. 5. Shantae Miller and Lori Miller, Eddy "Junior" Almaguer and Jennifer Luke (tie). 7. Olivia "Livy" Harnack and James Madson, Aiden Garcia and Denny Gould (tied). 9. Alexis DeGraaf and Rebekah Couch, Alexis "Lulu" Taylor and Roger Harnack (tie).
A Grandview boy is shooting for a chance to compete in dart's National Youth Championships, but needs financial support to get there.
And after a weekend tournament, so far he's on target.
Eddy Almaguer, 14, showcased his skills at Prosser Eagles Aerie No. 2647 on Saturday, where he won the teenage division of the organization's first youth dart tournament, an event that drew nearly a dozen youth competitors from the Lower Yakima Valley. Marcelina Morado, 10, of Prosser won the younger division.
"I need more practice," Almaguer said after winning 17 of 18 matches.
The victory and fundraising are among the first steps for Almaguer as he readies to compete in the national competition Aug. 4-6 in Stamford, Conn.
"I'm going to shoot more at home," the incoming Sunnyside High School freshman said. "I need to practice my outs."
Almaguer was referring to the rules of the national tournament that require a "double out" to win a game. The double area of the dart board is the outer red and green ring, which scores double the points for the associated number.
He'll also have to find a place to practice with steel tips darts, as the national competition requires them.
Most businesses and clubs in the area with dart boards have the plastic, scorekeeping machines.
Almaguer may be the best teenage dart shooter in the Pacific Northwest, in part because he's learning from the best, he said.
He credits his mother, Jennifer Luke, and uncle Kevin Luke, both of whom have competed in the national tournament.
"We take him into Herb's in Grandview (to practice against adults), Kevin Luke said.
He was responsible for organizing the youth tournament Saturday in cooperation with the Eagle's Aerie and area American Dart Organization league leader Andrew Payne of Kennewick.
"There's not really a lot of youth tournaments in this area," Kevin Luke said, noting his nephew needs more youth competitions.
"This is the first in one in our area," Payne said. "We're trying to get the word out."
Despite the lack of competitions and few venues, Jennifer Luke is proud of her son's accomplishments.
"He practices at home almost every night," she said, noting darts runs in the family.
According to Jennifer Luke, her father taught her and Kevin Luke the sport.
"Out Dad got us into it when we were little," she said, noting the tradition has carried on.
Jennifer Luke is confident her son will do better at nationals than she did. But, she added, he has work to do first.
"He has to work on his outs," she said. "And he has to be able to do the math fast enough to figure out what to hit."
The competition will feature 301 games, where competitors start at 300 points and count down to zero,
He also has to pay his own way, as she and her brother did.
The buy-in is $600, not counting airfare, hotels and meals. But should he win, Almaguer's travel and expenses for the world championships in London would be paid for.
The Eagles served breakfast during the competition and planned to donate proceeds to Almaguer's travel fund. The organization is also in the planning stages for a bigger fundraiser at a later date.
An account for donations has yet to be set up, Payne said. So, for now, requests for information on helping Almaguer can be directed to drewpayne34@frontier.com.
"It's pretty cool," Almaguer said of the sport and the opportunity to hit dart's national stage.
"Cool" is the same word Morado used Saturday to victory in the younger dart division.
"I won six games," she said, more than any of the other youth in her division. "It was good, really good."
Like the Luke's, Morado said she is learning the sport from Dad. The key to winning, she said, is to aim straight and be good at math.
"Once you're in double digits, you have to add up," she said. "And always fist bump after you play."