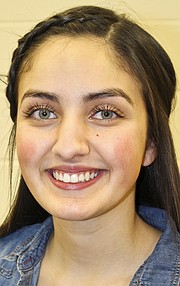 GRANDVIEW — Maritza Alvarez has dreams of becoming an ROTC cadet following high school.
The 17-year-old high school junior is seeking the title of Miss Grandview and the right to represent her hometown as a community ambassador throughout the Yakima Valley and Central Washington.
Alvarez is one of eight Grandview High School junior girls vying for the crown.
The daughter of Maria and Martin Alvarez, she is one of four children.
She is active in a variety of school activities including Hounds have Heart, GEMS Committee and the DECA Club.
She has worked on her leadership skills as a class officer in her freshmen and sophomore years, Alvarez said. She is enhancing those skills volunteering at the Extra Mike Students Center.
Her long-range goal is to attend Central Washington University in Ellensburg, with a plan to become an Air Force Aerospace engineering officer.
"I want to go into the Reserve Officer Training program and to join the Air Force branch," she said. "It is one I have been interested in since my late elementary years."
For the talent portion of the Miss Grandview pageant, Alvarez will present a monologue of the poem "Joy."
"It (the poem) shows the importance of being joyful and seeking joy even during times where it seems like there is none," she said.
The Miss Grandview Pageant is set for 7 p.m. April 15 in the middle school gymnasium.