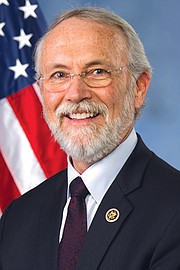 WASHINGTON, D.C. — Congressman Dan Newhouse introduced two measures yesterday to try to rein in the over-reach and use of the federal Endangered Species Act.
Newhouse, R-Sunnyside, represents the 4th Congressional District, covering Central Washington from the Oregon border to Canada.
His bill, House Resolution 1274 would amend the 1973 Endangered Species Act to require government agencies to release all data used in rulemaking prior to mandates taking effect.
The measure would also require the "best available scientific and commercial data" be included for public review.
The measure would require federal agencies to consider data submitted by state, tribal and county agencies, something that has not always been practiced.
House Resolution 1273 would require the federal government to post all such data on the Internet as well as cap attorney's fees related to endangered species lawsuits.
"I am introducing these two bills to improve the transparency and methodology of Endangered Species Act listing decisions," Newhouse said. "The federal government should be required to consider the best available science to justify listing decisions under the ESA.
"And all citizens should have access to the data used by agencies to make such determinations. These bills would make the ESA listing process more accountable to states, tribes, and local entities by requiring federal agencies to consider local input."
The bills have already drawn support from other lawmakers.
House Resolution 1274 — called the State, Tribal, and Local Species Transparency and Recovery Act — is being co-sponsored by Reps., Ralph Abraham, R-La.; Kevin Cramer, R-N.D.; Paul Gosar, R-Ariz.; Gregg Harper, R-Miss.; Walter Jones, R-N.C.; Roger Marshall, R-Kan.; Steve Pearce, R-N.M.; Scott Tipton, R-Colo.; and Ted Yoho, R-Fla.
Cramer, Gosar, Harper, Marshall, Pearce and Tipton and Rep. Jason Chaffetz, R-Utah, are co-sponsoring House Resolution 1273 — the 21st Century Endangered Species Transparency Act — with Newhouse.
The 113th Congress passed similar measures, but they failed to clear the Senate.