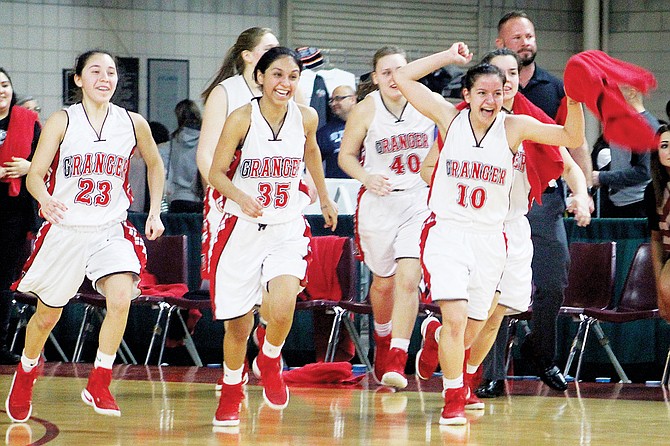 YAKIMA — The Granger Spartans girls took charge of yesterday's quarterfinal game against Meridian and never looked back.
The Spartans defeated the Trojans, 56-35, in the Yakima Valley SunDome.
The win advances No. 3-ranked Granger to today's 5:30 p.m. semifinal game against No. 8-ranked Mount Baker.
The game started with a 14-4 first-quarter run by the Spartans.
The teams traded baskets to 4 points apiece. That's when a layup by Keely Teel started the run and the Trojans were denied another.
Meridian was unable to catch up, having been outpaced 23-12 in the second stanza. Granger led the game 37-18 at the half.
The Spartans started the third quarter with a missed jumper by Emma Stewart, Kyrin Baklund of the Trojans rebounded the shot and scored a jumper of her own.
Not to be denied the Spartans continued to plug away, limiting Meridian's offense to 8 points. However, Granger missed 14 of their shots and scored just 3 points during the third stanza.
In the final quarter, the Trojans sent Alexis Castro to the line six times. She scored 12 points from the charity stripe in that period.
Castro led her team with 25 points and 7 rebounds — all defensive.
Sophie Blodgett was another force to reckon with as she was often under the basket, collecting 6 rebounds, four of which were on defense.
The Spartans forced Meridian to turn the ball over 24 times, resulting in 19 points for Granger.
Penetrating the Trojans' defense was key to the win, as 28 points were scored from inside the paint.
Leading Meridian with 14 points was Baklund. Kiana Gray tallied 12 rebounds.
Granger was 81 percent from the free throw line, scoring 17 points from the stripe and 18 from field goals.
Meridian was 26.7 percent shooting.