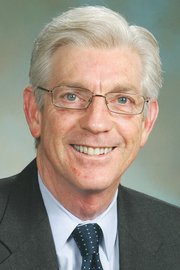 Washington's coastline, lakes, rivers, streams and estuaries are part of what make our state so beautiful and enjoyable for outdoor and boating recreation.
They are also why we had better take the threat of aquatic invasive species seriously.
In the House Agriculture and Natural Resources Committee this year, we had extensive presentations and work sessions on the problems other states and nations are having with specific invasive species. It became evident very quickly that the threat is real and it's on our doorstep.
These non-native hearty, prolific creatures are very difficult to kill and nearly impossible to control. They have no natural predators and are expanding their range at an alarming rate.
Once they enter a new ecosystem, they fill intake pipes, irrigation lines and dam operations. They can clog screens, water management systems and fish hatcheries.
They quickly move beyond the nuisance stage and give weighty meaning to the word "invasive." The pictures shown to us in committee were truly startling as these critters multiply and spread at a rapid pace.
Conservative estimates suggest that if the zebra or quagga mussels were to invade Washington, it could cost hundreds of jobs and up to $100 million per year.
To help prevent this from happening, I introduced House Bill 1429 this legislative session. My proposal builds upon broad legislation led by Sen. Jim Honeyford in 2014.
My bill creates the Aquatic Species Management Account in the State Treasury. It directs funds obtained from the derelict vessel and invasive species removal fee charged by the Department of Fish and Wildlife to be deposited into the account.
The bill also allows issuing $20 aquatic invasive species prevention permits for vessels registered in another state before they can enter our waterways.
My bill did not make it out of the House Appropriations Committee. It is not dead for the session, it is on life support.
This is truly a case where an ounce of prevention is worth a pound of cure.
— Rep. Bruce Chandler, R-Granger, is the ranking Republican on the House Appropriations Committee.