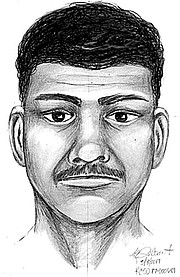 ALDERDALE — Klickitat County Sheriff's Office deputies are seeking the public's help in apprehending a suspect in an attempted kidnapping.
After nearly a week, authorities are still seeking clues and information on the incident.
And area resident Jerry Fitzgerald is working with the community to raise a reward of $5,000 for information leading the arrest and conviction of the suspect.
According to the Sheriff's Office, the attempted kidnapping occurred last Tuesday. At about 5 p.m., deputies responded to the 400 block of Alderdale Road for a reported abduction attempt.
An incident report said a 14-year-old girl had gone for a jog along the road when a Hispanic man grabbed her from behind and tried to pull her into nearby bushes.
The girl, armed with pepper spray, defended herself, got free and ran home, the report said.
The incident was reported to the Sheriff's Office and a sketch artist was contacted to come up with a rendition of the suspect.
The Sheriff's Office is asking anyone with information to call 509-773-4545.