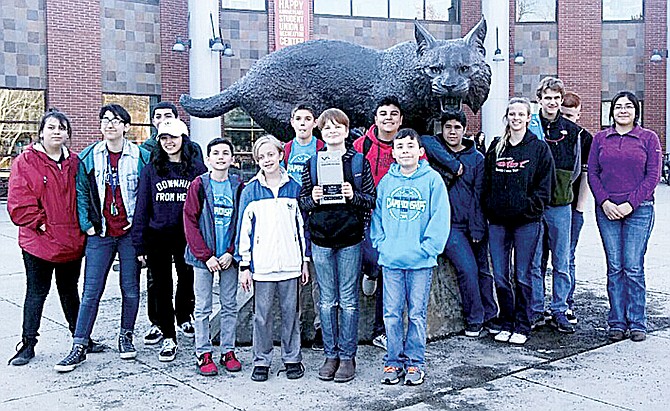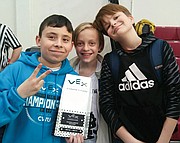 ELLENSBURG — A tech-saavy robotics club from Sunnyside has won one of three coveted berths to the world finals competition.
Harrison Robotics Club members will join Everett and Bellevue students in representing the state at the April 19-22 event in Louisville, Ken.
The team comprises Harrison Raihl, Jose Zesati and Patrick Wise, all of Harrison Middle School; and Luke Weaver from Sierra Vista Middle School.
All are sixth-graders and coached by adviser Darla Van Corbach, a Harrison teacher and the school's science fair adviser.
Van Corbach said she's proud of her team for winning a berth to the world finals.
"We had six teams from our robotics club (this year), and two qualified for state," she said. "Out of state, we had one qualify for worlds."
The competition on the campus of Central Washington University featured 20 teams from across the state.
Other than Sunnyside, only Toppenish, Goldendale and Mattawa were from South-Central Washington, Van Corbach said.
This year's competition, Star Struck, pits teams against each other as they move cubes and "big stars" across a field.
"The big stars looked like Jacks," Van Corbach said. "They had to pick up and move them to the other side of a field.
There was a barrier in the middle, so they had to throw over or squish the jacks under (the barrier)," she said.
Once the teams got the cubes and stars over the barrier, their partnering team had to move the items to the end of the field.
"This year's contest was statewide, kind of a bigger deal," Van Corbach said, noting the team has a lot of work to do, starting with figuring out how to pay for the trip. The entry fee and travel costs for the four team members, their adviser and a male chaperone are expected to cost about $10,000.
School officials are trying to figure out what funding mechanisms are allowed — using sponsorships, donations or School District funds. They expect to have an idea in the next day or two, she said.
"We're hoping we can come up with the funds," Van Corbach said.