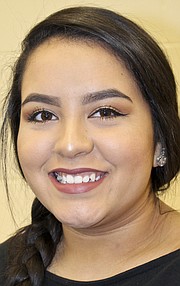 GRANDVIEW — This candidate hopes to become a surgical assistant following high school graduation.
Krystal Marie Bravo, 16, said she wants to help as many people as possible "…as I can in my lifetime."
She is a candidate for the title of Miss Grandview, one of eight girls seeking the honor.
In preparation for college, she currently attends the Running Start program on the Yakima Valley College Grandview campus while attending high school as a junior. She says her favorite class is history.
She is a Key Club officer, plays in the band and a member of the varsity basketball and football cheer squads.
And Bravo plays golf on her school team and has volunteered her time to help with such school projects as blood and food drives.
She is on the Key Club Tolo decorating committee. Bravo enjoys helping with the school's community haunted house project each October. She is a Link Crew member, helping young students with school orientation.
Outside of school, she has been a Grandview City Pool lifeguard for two years and rang bells to raise funds for the Salvation Army during the holidays.
Bravo plans to demonstrate her skills as a cheerleader, with a dance routine during the talent portion of the pageant.
The daughter of Antonio and Gracie Bravo, she is the youngest of four children.
The Miss Grandview Pageant is set for 7 p.m. April 15 in the middle school gymnasium.
Tickets will be on sale at the door.