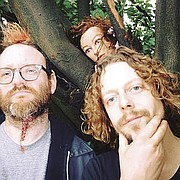 PROSSER — Looking for a bit o' luck of the Irish this St. Patrick's Day?
Well then maybe you need to spend a wee bit o' time in Prosser tomorrow.
Corned beef and cabbage is the order of the evening at a few local establishments. And, as always on St. Patrick's Day, the green beer — or ale — is expected to be aflowin'.
Prosser Eagles Aerie No. 2647, 1205 Bennett Ave., will be offering a corned beef and cabbage dinner for members and guests beginning at 5:30 p.m.
Green beer is also planned as part of the celebration of all things Irish.
It's also Queen of Hearts night — for aerie members only.
Whitstran Brewing Co., will offer similar fare, starting at 5 p.m. The brewery and restaurant at 1427 Wine Country Road plans corned beef and cabbage and their very own green ale to mark the holiday.
Around the corner from the Prosser Eagles, Horse Heaven Saloon is planning slightly different specials.
Horse Heaven isn't planning any green ales this holiday.
But the saloon at 615 Sixth St. will be offering brats, sauerkraut and festive Irish adult beverages.
Just down the road, Brewminatti coffee house will be bringing in some tunes to celebrate the evening.
Portland, Ore.-based Hillstomp will bring its "junkbox" blues to the venue at 713 Sixth St. The two-man band features Henry Christian on the guitar and John Johnson on the "buckets."
The concert runs from 7-9 p.m.
Here are some other activities planned around the region for St. Patrick's Day:
Richland
Sail aboard the Chrysalis from 6-8 p.m. Organizers of the event say cruise participants will find "a bit of malarkey and a lot of green beer" as they cruise on the Columbia River. The cruise departs from Columbia Point Marina, 660 660 Columbia Point Park Road. For reservations, call 509-263-19965.
Sunnyside
Snipe's Mountain Brewery, 905 Yakima Valley Hwy., will offer a St. Patty's Day "Stout Chocolate Cake," made with its own stout beer. Snipe's is also offering green beer and Irish stew.
Sunnyside Eagles Aerie, 100 W. South Hill Road — Steak dinner from 6-8 p.m. for members and guests. Immediately afterward, tejano night runs from 9 p.m. to 1 a.m. Saturday.
Toppenish
You'll find more corned beef and cabbage at the Toppenish Eagles Aerie, 515 S. Division St. Dinner for members and visitors runs from 7-9 p.m. Patrons will also find green beer flowing.
Wapato
Corks and Canvas at Treveri Cellers, 71 Gangl Road — Try your hand at painting while sipping wine.
Zillah
St. Patrick's Day weekend at Tanjuli Winery — From noon to 4 p.m., the winery at 209 N. Bonair Road will release its estate 2013 Carmenere, 2014 Picpoul Blanc and 2014 Viogier wines.