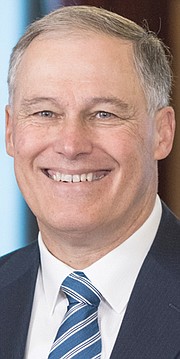 PROSSER — Two counties in the Lower Yakima Valley could be in line for assistance after an emergency declaration.
Benton and Klickitat are two of 28 counties covered in Gov. Jay Inslee's emergency proclamation issued yesterday. The proclamation is intended to help counties recover from severe winter weather from Jan. 30 through Feb. 22.
"The impacts have been significant, from snow removal and damage to public facilities to transportation interruptions and the opening of shelters to assist those whose power was out or their homes damaged," Inslee said.
The proclamation will help the State Department of Transportation make emergency repairs to the state's roadways and request federal financial assistance.
Damage to roads alone is estimated at more than $10 million.
The proclamation also allows the governor to potentially request other federal assistance, pending the outcome of ongoing damage assessments in the impacted counties.