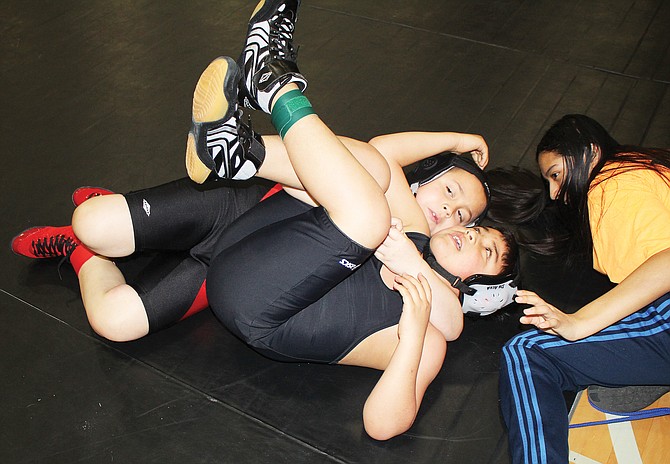 SUNNYSIDE — The Sunnyside Little Grapplers wrestling team will be heading to Othello on Saturday for their next wrestling tournament.
"Sixteen teams will be attending," coach Daniel Guillen said yesterday. "Working hard this week and hoping to bring home more hardware."
The Little Grapplers competed last weekend at the Ernie Weeks Memorial Tournament at Wahluke High School in Mattawa.
Photo Gallery
Ernie Weeks Memorial Tournament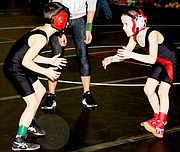 Here are a few photos from the Ernie Weeks Memorial Tournament at Wahluke High School on Saturday, March 11, 2017. The youth wrestling tournament featured 19 teams, including teams from Mabton, Prosser, Granger and Sunnyside.
Of the 42 local wrestlers competing, 25 came home with medals — seven champions, eight seconds and 10 thirds.
"Good tournament; 19 teams present," Guillen said of last weekend's meet. "Tough competition there."
The following Little Grapplers medaled:
5/6 — Andre Esquierdo, 1st.
7/8 — Diego Hernandez, 1st; James Perez, 2nd; Maricella Garcia, 2nd; Jeriel Carreon, 3rd; Alicia Ramos, 3rd; and Damien Diaz, 3rd.
9/10 — Cesar Salais, 2nd; Isaac Esquivel, 2nd; Juan Rodriguez, 2nd; Alejandro "Alex" Aguilar, 3rd; Joe Ayala, 3rd; Julian Puga, 3rd.
11/12 — Edward Puga, 2nd; Jayden Jasso, 3rd; Joan Gonzalez, 3rd; Alexxus Ramos, 3rd.
13/14 — Leonard "Lenny" Avalos, 1st; Jesus Carreon, 1st; Marcos Graciano, 1st; Riley Guerrero, 1st; Benjamin Martinez, 2nd; Jasmine Rodriguez, 2nd; Elijah Reyes, 3rd.