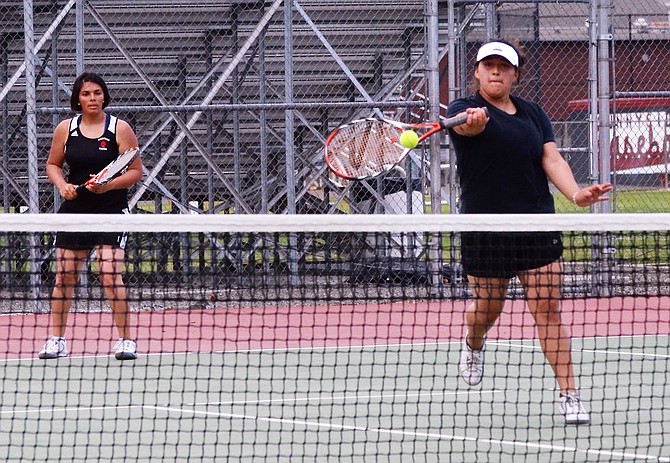 The Grizzlies tennis teams hosted Davis yesterday.
Grandview and Prosser complete theirs tomorrow.
The Big 9 will have a district play-in at Eastmont tomorrow, but Sunnyside is set to host Eastmont Tuesday.
Grandview at Prosser
The Greyhounds boys team defeated the Mustangs yesterday, 4-0; the Prosser girls won by the same score.
In boys singles action, first doubles player Alfonso Granados defeated Isaias Velasquez in three sets, 6-1, 5-7, 6-4. No. 2 doubles player Devin Amaro of Grnadview won, 5-4, in his match against Angel Rivera. The remainder of the match was suspended due to weather. Doubles players Roy Escareno and Esgar Valencia defeated Prosser's Alan Salinas and Caleb McMurtry by twin 6-1 scores in No. 1 play; Joel Pina and Marc Martinez won, 6-0, 6-2 against No. 2 teammates Peter Felicijan and Lisandro Santillo; and Isaiah Villarreal and Nathan Barrientes defeated Mustangs No. 3 teammates Ryan Winder and Josmar Valencia.
Prosser girls winning their matches include singles players Karina Acosta and Rachel Blount; and doubles players Jamie Fassler and Cyndal Johnson, Joanna Ramos and Valeria Covarrubias.
Sunnyside's coach did not provide stats.