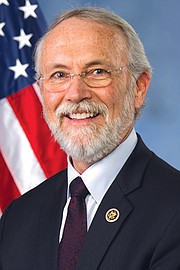 WASHINGTON, D.C. — A Sunnyside lawmaker who has long opposed the Affordable Care Act, also known as "Obamacare," was absent yesterday when the House of Representatives voted 217-213 to replace "Obamacare."
U.S. Rep. Dan Newhouse, R-Sunnyside, said he missed yesterday's vote because of health issues facing his wife, Carol.
Twenty Republicans voted against the ACA's replacement, House Resolution 1628, the American Health Care Act.
"I have largely remained by her side and was unable to be in D.C. for the vote on the AHCA," Newhouse said. "I am pleased the process to improve our health care system will continue with action by the Senate and further negotiations with the House."
Newhouse, who made the repeal of Obamacare a campaign promise when he first ran for Congress in 2014 and again during his re-election bid in 2016, said he has heard from constituents facing high costs and the loss of their preferred provider due to provisions in the Affordable Care Act.
"I will continue to work with my colleagues to keep my promise to reverse the burdens created by Obamacare and restore patient-centered health care," he said.
The vote in the Republican-controlled House came about a month after an earlier version of the bill was pulled due to lack of support. This bill gives states more control and offers federal funds to help those with pre-existing conditions afford higher premiums, supporters said.
The resolution moves to the Senate for consideration.